After four previous acting nominations spanning 22 years, The Revenant star Leonardo DiCaprio was finally crowned Best Actor at the Oscars on Sunday night. Mad Max: Fury Road won six awards, while Spotlight was the surprise Best Picture winner.
Accepting his award, DiCaprio saluted the other Best Actor nominees this year, which included Michael Fassbender for his performance in Steve Jobs. He thanked his parents and all the others who had helped him throughout his career. 
DiCaprio also used his acceptance speech to highlight climate change and "man's relationship to the natural world". "Let us not take this planet for granted. I do not take tonight for granted," he said. 
Brie Larson won Best Actress for her performance in the Irish film Room, directed by Lenny Abrahamson. In her acceptance speech she described the Dublin filmmaker as "absolutely incredible" and also paid tribute to Irish author Emma Donoghue, who adapted her own bestseller for the screen. Saoirse Ronan had been nominated in the Best Actress category for her performance in Brooklyn.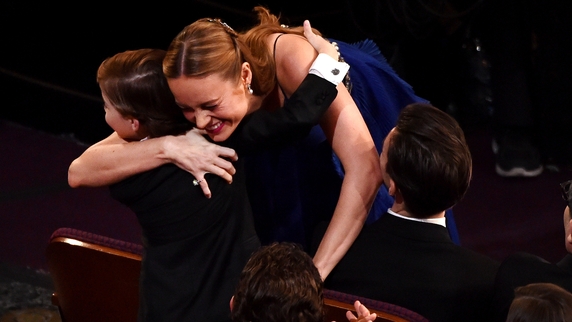 Room star Brie Larson hugs co-star Jacob Tremblay before accepting her Best Actress award
Irish films Brooklyn and Room lost out in the Best Adapted Screenplay category, with The Big Short's Charles Randolph and Adam McKay winning the award. Room author Emma Donoghue had been among the Best Adapted Screenplay nominees, and was joined in that category by English writer Nick Hornby, who adapted Colm Tóibín's Brooklyn for the big screen.
Stutterer, which was directed by Irishman Benjamin Cleary, was named Best Live Action Short. Accepting the Oscar, Cleary said: "Every day is a proud day to be Irish, but today even more so...Sláinte!"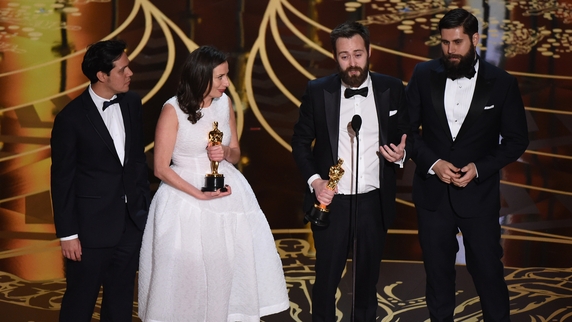 Benjamin Cleary accepting his Oscar for Stutterer
#Oscars: Watch Jacob Tremblay and Abraham Attah present Best Live Action Short https://t.co/o9WYyoHijp pic.twitter.com/cz6pE4vwf3

— Hollywood Reporter (@THR) February 29, 2016
The Revenant's director, Alejandro González Iñárritu, won his second Best Director Oscar in a row - he won last year for Birdman. Dublin filmmaker Abrahamson had been nominated in the category for Room.
#Oscars: Alejandro G. Inarritu tells Leo he "is The Revenant" in Best Directing acceptance https://t.co/vHPH3ZXR4Z https://t.co/zTp2UnqjXz

— Hollywood Reporter (@THR) February 29, 2016
Along with Spotlight's win, the other big shock of the night was Creed star Sylvester Stallone losing out in the Best Supporting Actor category to Mark Rylance for Bridge of Spies.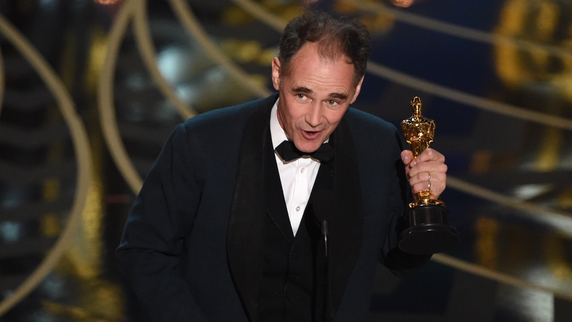 Mark Rylance - Best Supporting Actor for Bridge of Spies
"I've always just adored stories," Rylance said in his acceptance speech. "It's a wonderful time to be an actor and I'm proud to be a part of it." 
#Oscars: Mark Rylance wins Best Supporting Actor, "I've always just adored stories" https://t.co/ivJRBEd6oP https://t.co/lH9oDQSuff

— Hollywood Reporter (@THR) February 29, 2016
Alicia Vikander won Best Supporting Actress for The Danish Girl. She thanked her parents "for giving me the belief anything can happen".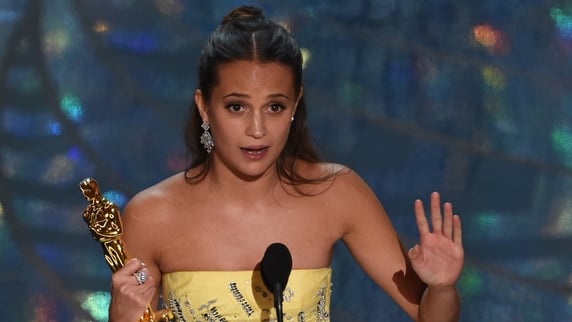 Alicia Vikander thanks her parents
#Oscars: Watch Alicia Vikander accept the Academy Award for Best Supporting Actress https://t.co/VqZtXdof6P https://t.co/bzNzf6C2hu

— Hollywood Reporter (@THR) February 29, 2016
Inside Out was named Best Animated Film, Son of Saul Best Foreign Language Film and Amy Best Documentary.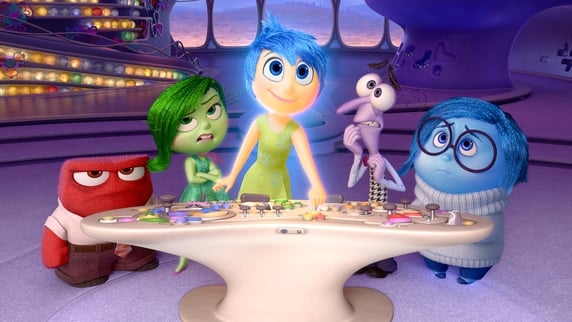 Inside Out - No surprise it won
Mad Max: Fury Road won its six Oscars in the technical categories, for Film Editing, Sound Editing, Sound Mixing, Costume Design, Production Design and Make Up and Hairstyling. It is the first film in Oscar history to win in all those categories.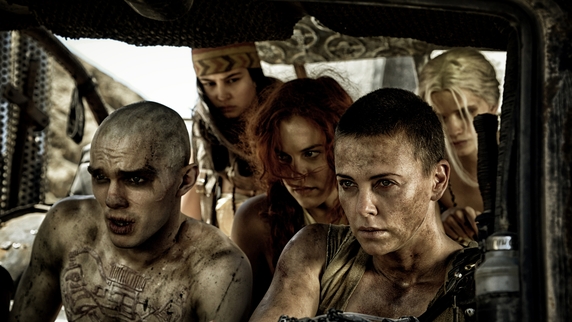 Mad Max: Fury Road
After five previous nominations, composer Ennio Morricone finally won for his work on The Hateful Eight. He was the recipient of an honorary award in 2007.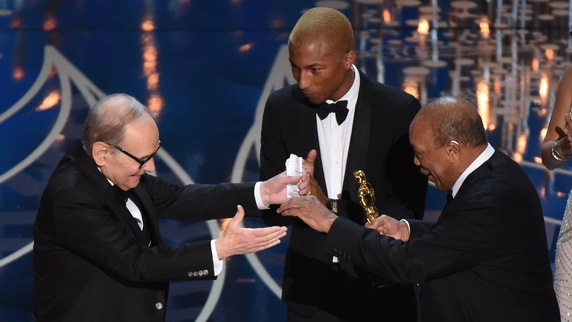 Ennio Morricone accepts his Oscar from Quincy Jones (r) and Pharrell Williams
The Revenant's Emmanuel Lubezki won his third Cinematography Oscar in as many years. He previously won for Birdman and Gravity.
Host Chris Rock made the most of the #OscarsSoWhite controversy with his jokes on the night, describing the ceremony as the "White People's Choice Awards".
#Oscars: Chris Rock gets right to #OscarsSoWhite in opening monologue https://t.co/0zFa1B2OwG
https://t.co/pjQqIuCvPQ

— Hollywood Reporter (@THR) February 29, 2016
The show also saw special guest appearances by Star Wars: The Force Awakens trio BB-8, C-3PO and R2D2.
'Star Wars' stars BB-8, R2D2 and C-3PO make an appearance at the #Oscars https://t.co/jJlbgVrlna https://t.co/bLnFBm2sXj

— Hollywood Reporter (@THR) February 29, 2016
You can watch highlights of the Oscars ceremony on RTÉ2 on Monday night at 9:00pm.
For more on how the Irish fared, click here. 
The Winners:
Best Picture
Spotlight
Best Director
Alejandro González Iñárritu - The Revenant 
Best Actor 
Leonardo DiCaprio - The Revenant

Best Actress 
Brie Larson - Room
Best Supporting Actress
Alicia Vikander - The Danish Girl
Best Supporting Actor
Mark Rylance - Bridge of Spies 
Best Original Screenplay
Spotlight - Josh Singer and Tom McCarthy 
Best Adapted Screenplay
The Big Short - Charles Randolph and Adam McKay
Best Foreign Language Film
Son of Saul (Hungary)
Best Animated Film
Inside Out - Pete Docter and Jonas Rivera
Best Documentary
Amy - Asif Kapadia, James Gay-Rees 
Best Live Action Short
Stutterer - Benjamin Cleary and Serena Armitage
Best Documentary Short
A Girl in the River: The Price of Forgiveness - Sharmeen Obaid-Chinoy
Best Animated Short
Bear Story - Gabriel Osorio Vargas
Cinematography
The Revenant - Emmanuel Lubezki
Best Original Score 
The Hateful Eight - Ennio Morricone
Best Original Song
Writing's on the Wall from SPECTRE; Music and Lyrics by Jimmy Napes and Sam Smith
Film Editing
Mad Max: Fury Road - Margaret Sixel
Sound Editing
Mad Max: Fury Road - Mark A Mangini, David White
Sound Mixing
Mad Max: Fury Road - Chris Jenkins, Gregg Rudloff, Ben Osmo
Visual Effects
Ex Machina - Andrew Whitehurst, Paul Norris, Mark Williams Ardington, Sara Bennett 
Costume Design
Mad Max: Fury Road - Jenny Beavan
Production Design
Mad Max: Fury Road - Colin Gibson, Lisa Thompson
Makeup and Hairstyling
Mad Max: Fury Road - Lesley Vanderwalt, Elka Wardega and Damian Martin