The actor Hugh Bonneville has spoken of his discovery that his mother worked for British state security agency MI6.
Bonneville - known to millions for his role as the Earl of Grantham in ITV's Downton Abbey - told BBC Radio 4's Desert Island Discs that his mother would never say what her work had involved, even when she was retired.
"When I was about 10 she said: 'I'm going to go and take a job for three days a week,' and I burst into tears and said: 'You're leaving me, you hate me," the actor recalled. "I'm going to pack my bags and leave now. You're an awful mother.'"
Some 30 years later, after Bonneville's mother had retired, the actor happened to see a newspaper story which reported that the M16 building, Century House, was to be sold.
"I looked at the photograph and I said: 'Mum, that's your office,' and she said: 'Hmmm, yes, dear,' and I said: 'You're a spy!' And she said: 'No, I'm not a spy, dear.'"
Some time after her death at the age of 85, the actor asked his father if she had ever discussed the work. His father confirmed that she never did discuss the job, that she just went to the office and did her work.
"So all I know is she didn't have special umbrellas or knives coming out of her toecaps or anything like that. She did just work in the office but I'm extremely proud, not only that she found fulfilment in that work, as well as bringing up us kids, but that she never spoke about it."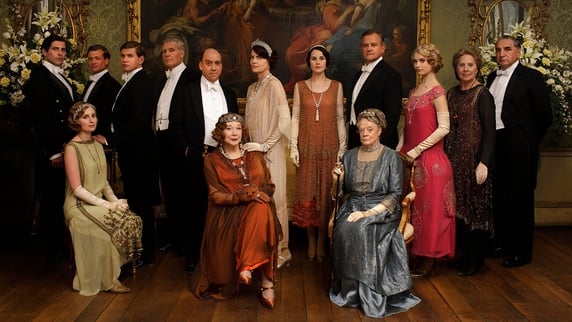 Hugh Bonneville as the Earl of Grantham, fourth from right: his mother didn't talk shop