The actor Frank Kelly, best known for playing foul-mouthed priest Father Jack in Father Ted, has died at the age of 77.
Kelly was a veteran of stage and screen for 60 years, including stints on RTÉ's satirical show Hall's Pictorial Weekly and his much-loved, scene-stealing turn as Father Jack on Channel 4 sitcom Father Ted from 1995 to 1998.
He is survived by his wife of 51 years Bairbre, 7 children and 17 grandchildren.
Kelly passed away exactly 18 years since the death of his Father Ted co-star Dermot Morgan, who also died on a Sunday. Dermot Morgan's son, Don Morgan, remarked on the coincidence in a tweet.
Isn't life just weird? Frank Kelly going on dad's anniversary... #ripfrankkelly #DermotMorgan

— Don Morgan (@gutenmorgan) February 28, 2016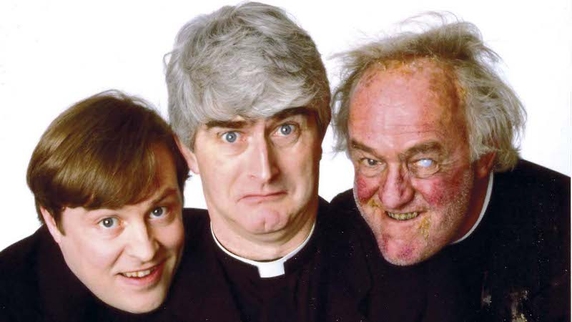 Kelly (right) with Father Ted co-stars Ardal O'Hanlon and Dermot Morgan
Ardal O'Hanlon, who played the gormless Father Dougal in the clerical sitcom, paid tribute to Kelly, calling him an all-round talent and an institution in Irish entertainment.
"Very sad news. We had lunch together at Christmas when he was in his usual feisty form," O'Hanlon said. "Frank was an all-round talent, an institution in Irish entertainment, a very determined professional and he'll be greatly missed by all who knew him."
"Thanks for everything" - tributes to the late actor Frank Kelly #FatherJackhttps://t.co/ySLlxGk0Op

— RTÉ News (@rtenews) February 28, 2016
Graham Linehan, who co-wrote Father Ted with Arthur Matthews said: "Just hearing from various sources that Frank Kelly has passed away. Terribly sad news. Thanks for everything, Frank."
In Hall's Pictorial Weekly, Kelly played councillor Parnell Mooney, a satire on a Local Authority figure in rural Ireland, which won him a Jacob's Award in 1974.
He also appeared in popular RTÉ soap Glenroe between 1999 and 2001 and later spent five months on the cast of ITV soap Emmerdale. In 2014 he appeared as the judge in Mrs. Brown's Boys D'Movie.
Druid is very sorry to hear of the passing of actor Frank Kelly. Our thoughts are with his family and friends

— Druid Theatre (@DruidTheatre) February 28, 2016
Kelly's first film role was as an uncredited prison officer in The Italian Job in 1969, escorting Charlie Croker (Michael Caine) out of prison in the film's opening sequence.
He also scored a No 8 hit in Ireland and a No 26 hit in the UK in December 1983 with A Christmas Countdown, a comedy version of the 12 Days of Christmas.
@RTERadio1 Very sad to hear of the news of Frank Kelly's passing. A brilliant talent, a hero & so very kind. RIP pic.twitter.com/jsBXcN0dB0

— Marty Morrissey (@MartyM_RTE) February 28, 2016
Last November, Kelly revealed that he had been diagnosed with Parkinson's disease, but said he was determined to live life to the full despite the condition.
"I've been working as an actor for over 50 years, and a shaky hand certainly won't stop me. I remain open to offers for work on stage and screen. I'm quite available and my mobile is always on." he said at the time.
Kelly received the all-clear from bowel cancer in 2011. He was treated for skin cancer last year and also had heart problems.
His Parkinson's diagnosis was confirmed after he was admitted to hospital in 2015 for heart failure.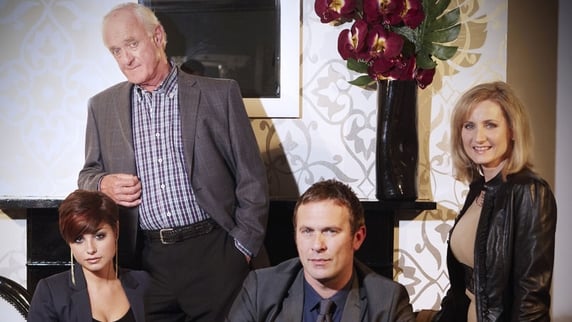 Frank Kelly in Emmerdale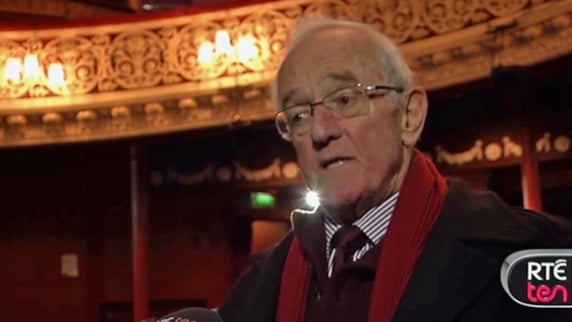 Frank Kelly discussing his role in John B Keane's Moll at Dublin's Gaiety Theatre
RIP #frankkelly So much more than Fr Jack ... pic.twitter.com/WFmBNY0IMz

— John Purcell (@esuohedarap) February 28, 2016
"It was my first diagnosis, but I'm quietly confident that I've had this for years and years," he said, explaining that he has lived with a shake in his right hand for a long time.
Kelly said that the Parkinson's symptoms increased after diagnosis but then abated. "But if you are watching what you are doing, you can control it. It doesn't interfere with your work, it doesn't interfere with anything.
"You might have heard of the American actor Michael J Fox, who was diagnosed with Parkinson's 22 years ago and is still working today. I'm the same."
As a tribute to Frank Kelly, RTÉ2 will show a Father Ted double-bill from 11.00pm on Sunday night.
The great Frank Kelly writer & actor has died here he is talking about comedy in 1979 https://t.co/ypI0V8ZkwD pic.twitter.com/1ITrVqD6i7

— RTÉ Archives (@RTEArchives) February 28, 2016