Mick Jagger has said that he is pleased with his son James' performance in Vinyl, the new TV drama set in New York's music business in the 1970s.
Jagger Snr is executive producer of the Sky Atlantic show and his son James plays Kip Stevens front-man with punk rock band Nasty Bits in the series.
"Well, first of all, I thought he was really good so I didn't have to worry too much, " Mick told the Toronto Star. "I mean, if he was really, really not good, maybe I wouldn't have been the one to tell him.I was really pleased with his performance."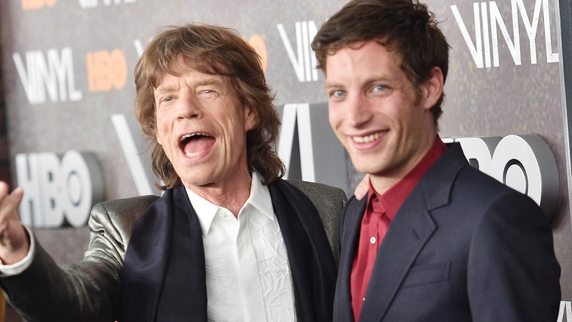 Father and son - Mick and James - at the New York premiere of Vinyl
Father and son worked together on the song Rotten Apple, which Nasty Bits performed in the first episode on Vinyl ."I'm happy to help him in any way when I've got time to do it,"
Jagger spoke to the Canadian newspaper on the phone as he was being driven to a recent Rolling Stones concert from Argentina and during the interview he noted: "There are big billboards on the freeway,Vinyl! It's quite funny really."
The series delves into murky recording industry shenanigans in the mid-1970s in New York, with lead star Bobby Cannavale playing a troubled industry honcho. Other cast members include Ray Romano and Olivia Wilde.
"Obviously it's fictional, " Jagger says. "It's a drama series and in a drama series you really want to bring out the characters, the narrative ... having said that, of course you also want to instil in people the sense of the times and you want them to buy in that. You have to make it believable - that's our overarching goal, whether it's actually true or not."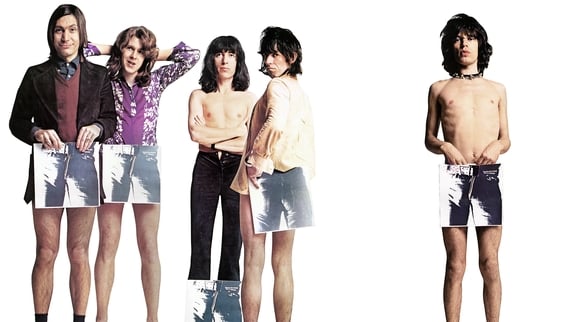 Jagger admitted that filming the show recalled for him 1970s-era Rolling Stones. However, the veteran rocker is wary of indicating anything autobiographical in Vinyl.
"I never worked at a recording company like that because in that time I was working at Atlantic Records with Ahmet Ertegun, and there's some of that in there, but it's a combination of a lot of things. It's a particular crazy time and place for this particular company."
Jagger also said that he has never been interested in becoming a record label executive like Cannavale's character in Vinyl.
"Everyone has their little imprint, but actually owning something like that would drive me nuts, literally nuts," he said.