Jennifer Aniston teared up at a reunion of Friends cast members during a tribute to sitcom writer and producer James Burrows on Sunday night.
Burrows wrote fifteen episodes of Friends in total and was also behind US sitcom classics Cheers, Taxi, Frasier and Will & Grace.
Speaking on the NBC special, a tearful Aniston said: "We experienced friendship, family, heartbreak, babies, everything, together. And we also had a wonderful experience with the world loving us as well."

Aniston appeared with cast mates Courteney Cox, Lisa Kudrow, Matt LeBlanc and David Schwimmer, their first public appearance together since Friends ended in 2004.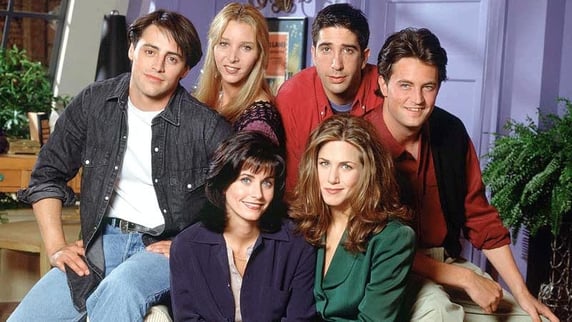 The way they were
Matthew Perry, who played Chandler Bing, was unable to attend due to stage work in London but recorded an introduction for the other cast members.

During the tribute, the cast were asked by host Andy Cohen if it there was any truth to the rumour that they signed a contract with NBC promising not to sleep with each other.
However, the actors demurred, apart from Lisa Kudrow, who said: 'I was not asked to sign anything like that."
We can't get enough of this. #MustSeeTV pic.twitter.com/tACHbcoWos

— NBC (@nbc) February 22, 2016
Aniston said that the cast were encouraged to spend time with each off set. "But that wasn't hard," she said. "We fell in love with each other and wanted to hang out."
They would also watch the episodes together and give each other notes. "Courtney told us that on Seinfeld they all really helped each other, so she said, guys, let's all help each other," said Kudrow.