The author of the just-published Cowboy Song: The Authorised Biography of Philip Lynott has told TEN he believes the late Thin Lizzy star was deeply hurt that he wasn't asked to reform the band for the Live Aid Wembley extravaganza in the summer of 1985.
The Live Aid show for famine relief at Wembley Stadium on July 13 1985 took place a little under six months before Lynott's death at the age of 36. It was organised by two of his close friends, Bob Geldof and Midge Ure, both of whom were interviewed by writer Graeme Thomson for his new book.
Lynott, the frontman of one of the biggest rock groups of the 1970s with Thin Lizzy, had championed Geldof's Boomtown Rats while they sought a record deal, while Ure was a former Thin Lizzy guitarist.
By July 1985, however, Thin Lizzy had split almost two years; Lynott as a creator was a shadow of his former self and, most tragically of all, years of drug addiction would soon take their ultimate toll.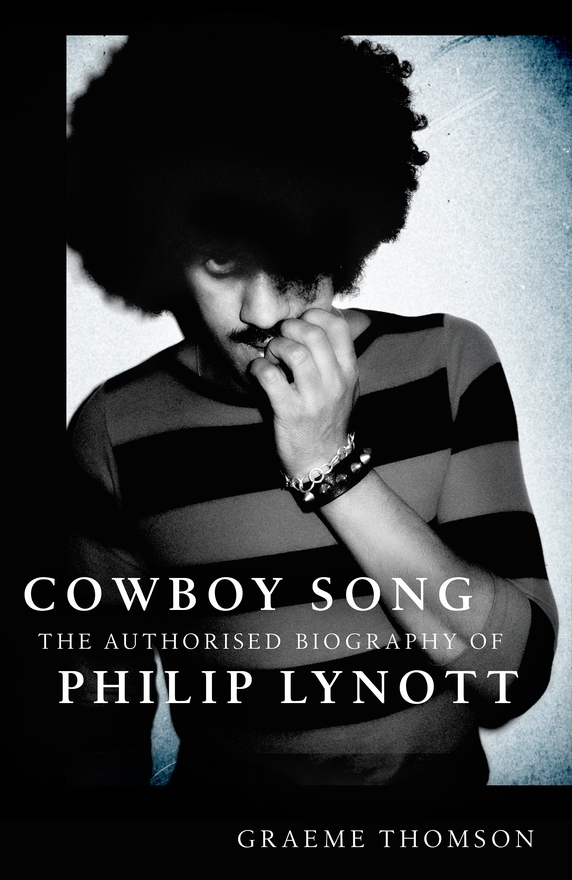 Against this backdrop, Thomson says, the rock icon "wasn't even part of the conversation" when Geldof and Ure were putting together the Live Aid bill. In Thomson's book, Ure goes as far as to say that it is to their "dying shame" that neither he nor Geldof "even thought about asking Phil to put Lizzy back together".
"It wasn't even that they thought, 'No, better not'," Thomson told TEN. "It's actually that he wasn't even on the radar at that point for that kind of thing. And I think that is really telling of where he was. And that was only six months before he died."
"If he had been in a healthy state, that could have been the Queen moment for them - The Boys Are Back in Town at Wembley? Can you imagine?" asks Ure in the book. "But it never crossed our minds, and we were both good friends of his. I think he would have felt absolutely betrayed by that. I think if we had done that [asked him to appear at Live Aid], Lizzy would have reformed."
Thomson says he believes Lynott was too proud and too vulnerable to open up about being overlooked for Live Aid and instead "sort of brazened it out".
"He actually turned up at the RTÉ studios that day and he auctioned a bass off. He did his bit, I guess, and there's something quite heartbreaking about that," said the author. "He wasn't somebody who would vent about it. But privately, I think, you can be sure that that had a [profound effect]. It's someone literally looking in from the outside at this party that's going on, this rock celebration. And he's quite clearly been left out."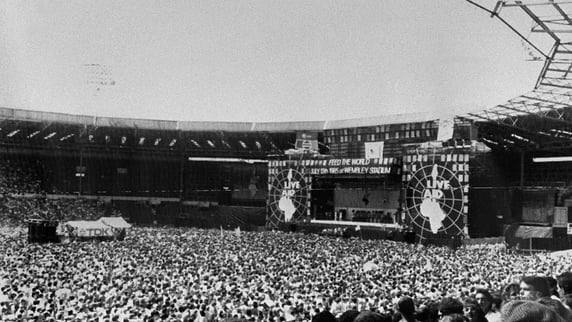 Live Aid, Wembley Stadium, July 13 1985
"He'd been hugely helpful to the Boomtown Rats - he'd pretty much passed their demo tape on to Ensign Records," continued Thomson. "He helped them get signed. He always used Irish support bands whenever he could. He was a real trailblazer in that respect for tonnes of Irish bands. And you've got Midge Ure who was in the band - he was guitar player for Thin Lizzy. And yet there were no favours shown. It's quite extraordinary, actually. But I think it does show just where he was at that point."
By January 4 of the following year, Phil Lynott was dead. "His heart, liver and kidneys had ceased to function," writes Thomson in the book. "He had pneumonia, abscesses and septicaemia."
But while Thomson writes harrowingly of the final years of Lynott's life, he told TEN that he hopes readers ultimately see Cowboy Song as a celebration of his talent and his impact artistically and culturally.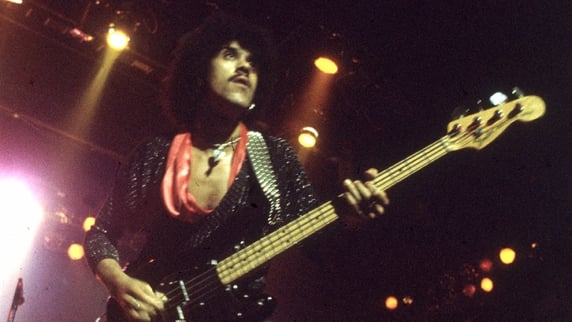 The Rocker at the peak of his powers
"It gets kind of dark towards the end - you can't turn away from that," said Thomson. "And I suppose it gets all the sadder because of how great he was to begin with. He stands for so much, I think, that's good about that time and how Ireland changed - how people were able to look at different inspirations and different figures to follow. There's something really courageous about that."
"There's a tendency with all of us - not just Ireland - to mythologize and sentimentalise our heroes, which is great," the author added. "But I think restoring him to flesh and blood as well [is very important]. That doesn't mean in a negative way, but to actually look at what he was good at, how good he was at so many things. To remove him from the statue, in a way, and look at the man again - that's what I wanted to achieve.
"I think there's a huge amount there to be celebrated, alongside the myth of the 'Bold Philo' who had all these exploits that I'm sure are still celebrated in the pubs. That's great; that's a big part of it, but there's also the real stuff - the real talent, the real achievements. Both of those run together."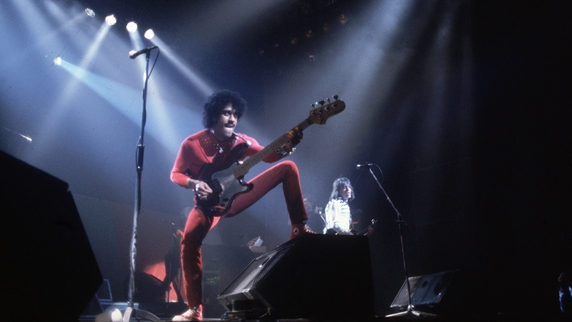 Cowboy Song: The Authorised Biography of Philip Lynott is published by Constable on February 25.