Ahead of next weekend's Academy Awards, Room director Lenny Abrahamson has described the experience of being among his fellow Oscar nominees as "completely surreal".
Dubliner Abrahamson and his longtime friend and colleague, Room's Oscar-nominated producer Ed Guiney, were guests on the Ray D'Arcy Show on Saturday night on RTÉ One, where they discussed the reality that Room's four nominations put them among the Hollywood elite - and showed that they're taking all the hype completely in their stride.  
Room tells the story of a five-year-old boy (Jacob Tremblay) growing up with his mother (Brie Larson) in a shed which he believes is the whole world, while she hides from him the fact that they are captives. 
Along with nominations for Best Picture and Best Director, the Irish-Canadian co-production of Emma Donoghue's best-selling book is also shortlisted for Best Actress (Larson) and Best Adapted Screenplay (Donoghue) at the Oscars on Sunday February 28.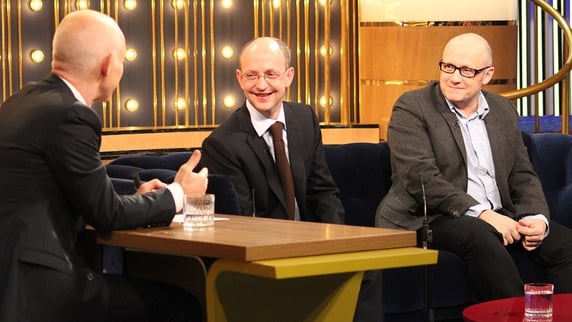 Ed Guiney and Lenny Abrahamson on the Ray D'Arcy Show
"For quite a while I was thinking, like a Miss Universe thing, that someone was going to phone up and say, 'Actually, we made a miscalculation and would you mind giving it back?'" said Guiney of his Best Picture nomination as producer.
"But we went to what they call the Nominees' Lunch about 10 days ago in LA and they actually give you a certificate and it says that you are Oscar-nominated."
When asked by host D'Arcy where he will put the certificate, Guiney replied: "Well, I'll frame it and I suppose I'll put it in the loo probably."   
Abrahamson said that a director would dream of being nominated for an Oscar "in the same way that a kid might dream of scoring the winning penalty in an FA Cup Final". 
"It is a very strange kind of double image you have when you're there [at the lunch] because you know you're there for real and you're meeting these people. But on the other hand you're also kind of living a sort of televised version of that in your head. It is completely surreal," he said.
Irish films, actors and filmmakers have received a record nine Oscar nominations this year. Along with Room's four nominations, Brooklyn is shortlisted for Best Film, Best Actress (Saoirse Ronan) and Best Adapted Screenplay (Nick Hornby) while Michael Fassbender is nominated for Best Actor for Steve Jobs and director Benjamin Cleary is nominated for Best Live Action Short for Stutterer.
"We are a tiny country," said Guiney, reflecting on the haul. "What we always say about it is it's been on the boil for quite a long time. For the last 10 years, I guess, or more maybe, Irish films have just been registering more and more internationally. If you look at key festivals like Sundance or Toronto or Cannes, Irish movies have been there. So it hasn't come out of nowhere. And I think it's also a testament to the Irish Film Board's investment over 20 years."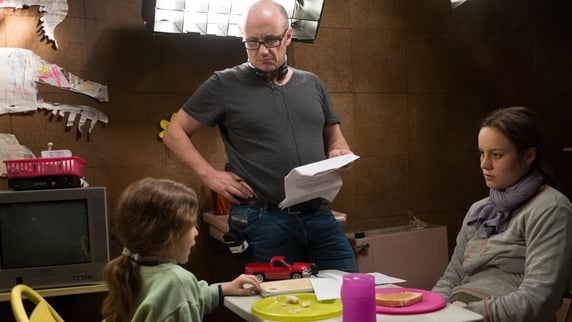 Director Lenny Abrahamson with stars Jacob Tremblay and Brie Larson on the set of Room
When asked if he was disappointed that Room did not receive a fifth nomination for the powerhouse performance of nine-year-old star Tremblay, Guiney replied: "It was a little disappointing, I think. There's always a confusion around the tactics of those nominations. As we're learning, the whole Oscar thing is a very tactical, and in many ways a very political, kind of campaign. With child actors they tend to put them up for Best Supporting Actor when, obviously, [with] Jacob it's a Best Actor [performance]. I think that may have split things a little bit."    
Asked how nervous he was on a scale of one to 10 as the Oscars countdown continues, Abrahamson said he had been preparing his "I didn't win face". 
Ahead of #Oscars, @RoomTheMovie's @lennyabrahamson is taking all the fuss in his stride! @RTERayDarcyShow #RayDarcyhttps://t.co/uY2ItW8jSQ

— RTÉ TEN (@RTE_TEN) February 20, 2016
And in classic Notting Hill style, he also revealed that he needed to brush up on the work of one of the nominees who was seated at his table at the lunch.
"He has an amazing haircut and I didn't know who he was so I sort of asked him what he did," Abrahamson recounted.
"He said he wrote a song. And I thought, 'Oh, that's great. It must be great to get that kind of publicity'. Turns out he's got a squillion fans and three-million Twitter followers. He's called The Weeknd."  
Check out our dedicated Oscars page for more information on this year's Academy Awards.