Here are TEN Things you (possibly) didn't know about Harper Lee, the celebrated author of To Kill A Mockingbird who passed away on Friday.
1. Nelle Harper Lee was born April 28, 1926, in Monroeville, Alabama, and was descended from Robert E Lee, Civil War commander of the Confederate Army. Lee's father served in the Alabama State Legislature from 1927 to 1939 and the author modelled her character Atticus Finch, the hero of To Kill a Mockingbird, on her dad.
2.The young Harper Lee attended the University of Alabama between 1945 and 1950, but left six months before she completed her law degree. However, she was later awarded an honorary degree by that institution. Lee's sister, Alice, qualified as a lawyer, and later took over their father's practice.
3. Lee moved to New York City in 1950, and worked as a reservations clerk for Eastern Air Lines and British Overseas Airways for many years. Friends lent her sufficient financial aid to enable her to write full-time for a year. She left the airline job and wrote the first draft of To Kill a Mockingbird.
4. In 1957, she submitted the manuscript of To Kill a Mockingbird to a publishing house. Take heart, aspirant novelists - there were two years of revisions and trimmings before it was finally deemed ready for publication by the publishing firm Lippincott. So the novel's execution was no speedy thing.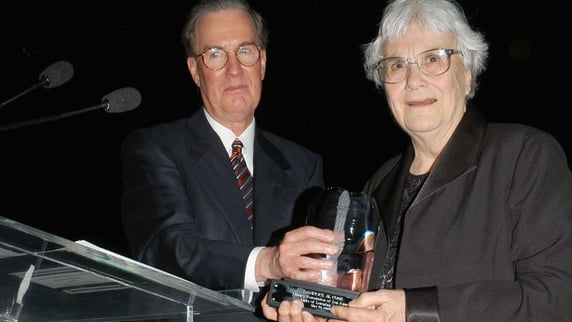 Lee at an awards ceremony in Los Angeles in 2005
5. Atticus, the lawyer hero of To Kill a Mockingbird, becomes quite racist in Go Set a Watchman, which discommoded a lot of readers.
6. The publication of Go Set a Watchman was not universally welcomed. "As a fan of Mockingbird, I will probably not be alone in regretting her publisher's decision to subject a frail old writer and her lost manuscript to the unforgiving climate of the contemporary book world," said Robert McCrum of The Observer. "It's not Mockingbird - how could it be? And its language, values and ethos are irredeemably dated. Race relations have thankfully come a long way since the days of the civil rights movement."
7.To Kill a Mockingbird, which won the Pulitzer Prize in 1961, was recently described by Oprah Winfrey as "our national book".
8. In 1962, To Kill a Mockingbird became a widely popular film starring Gregory Peck as Atticus and Mary Badham as Scout. But you probably know that already.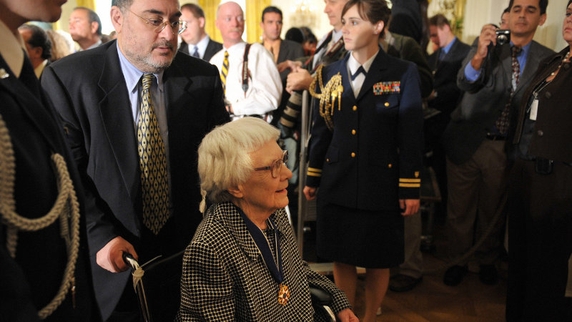 Harper Lee after she received the Presidential Medal in 2007
9. Shortly after Lee finished the first draft of To Kill a Mockingbird, Truman Capote invited her to accompany him to Garden City, Kansas, in order to help him research a non-fiction book involving the murder of a farm family. That book in time would be realised as another great American classic, In Cold Blood.
10. Lee and Capote's friendship dated back to 1928, when Capote moved to Monroeville to live with his aunts - the Lees, in fact, lived next door. Lee based a character in To Kill a Mockingbird on Capote, while a character in Capote's first novel, Other Voices, Other Rooms is partly based on Lee.