Vikings creator Michael Hirst has slammed Game of Thrones' use of nudity, saying the show uses it to "shock" unlike his show, which he says "is not gratuitous".
Vikings, which features much less nudity than Game Of Thrones because of US network TV regulations, shocked fans at the end of the third series when Count Odo, played by Irish actor Owen Roe, was seen whipping a naked French noblewoman (The Fall's Karen Hassan) in his dungeon.
The Press Association reports that Hirst, who also penned The Tudors, promised there would be a "pay-off" for viewers from the storyline when Vikings returns for a fourth series this Friday, February 19.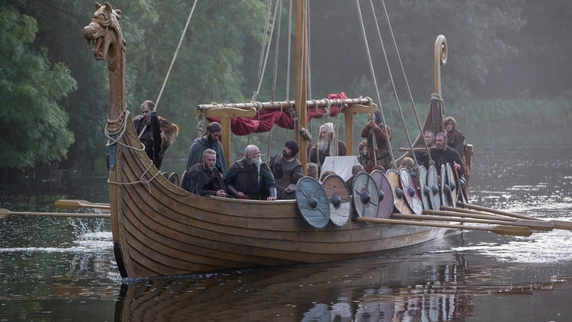 "I feel like a lot of other people, that sex in Game Of Thrones and other shows is completely gratuitous and unnecessary and a lot of the violence is gratuitous... It's largely to shock," he said.
He argued that the use of BDSM in Vikings was part of "a big storyline, a big pay-off. It's part of (Odo's) character so it's not gratuitous."
The fourth series of Vikings, which like GoT is partially filmed in Ireland, picks up after the Battle of Paris when Ragnar Lothbrok (Travis Fimmel) has returned to Kattegat and his brother Rollo (Clive Standen) remains in France with the promise of land and titles in exchange for marrying Princess Gisla.
The series is the longest yet and will run to 20 episodes and will include an eight-year time jump that will take the Vikings to new lands such as Turkey and introduce new characters.
Vikings season four launches on Amazon Prime Video from February 19, with new episodes released weekly.
Hirst has previously slammed Game of Thrones for using "gratuitous sex and violence".
Speaking to Vanity Fair in 2013, he said: "Some shows like Game of Thrones and other cable programs were using gratuitous sex and violence just to try and sell the show.
"In Game of Thrones, you get to see a scene opening with two naked women, and then you see a couple of guys come in and that's where the scene starts. We thought, "We're not going to do that. We can't do that anyway because it's a network show. We're going to be more imaginative and more innovative about how we use sex and violence. I was very pleased to do that.
"I think we've gone too far . . . you know, it's all kind of violent porn and sex porn. I was very, very happy to not be part of that trend and to instead concentrate on the story. And the way we told the story. That was important to us."