Lenny Abrahamson strikes a very human chord in his big screen adaptation of Emma Donoghue's celebrated book Room. What could be a harrowing tale of captivity and the slow destruction of the soul is in fact a life-affirming movie about survival, resilience and an inspiring lust for life. Room is also a kind of modern day fairytale but it is also loaded with suspense and all the elements of a gripping thriller.
Brie Larson, who has already picked up a Golden Globe and Oscar nomination for her performance, plays Joy (although she is mostly called Ma), a young mother who has been imprisoned in a tiny garden shed with her five-year-old son, Jack, for seven years.
She should be a woman on the edge of nervous collapse and Jack might be expected to be a withdrawn shell of a boy denied the joy and beauty of a full life. Instead Ma has made their 10 x 10ft prison a place of wonder for the bright and curious child, turning the grimy hovel into a universe of mystery and imagination as she pours her very being into his survival and the chance to embrace freedom.
They are locked away, she like Rapunzel and Jack like one of the Princes in the tower, and their lives are governed by nightly visits from their largely faceless captor, the none too subtly-named Old Nick (Sean Bridgers of Deadwood). He makes brief, angry appearances to deliver food and take full sickening advantage of Joy. It becomes clear that Old Nick has fathered Jack during Joy's long incarceration and she makes sure the boy is kept locked away in a closet when he calls.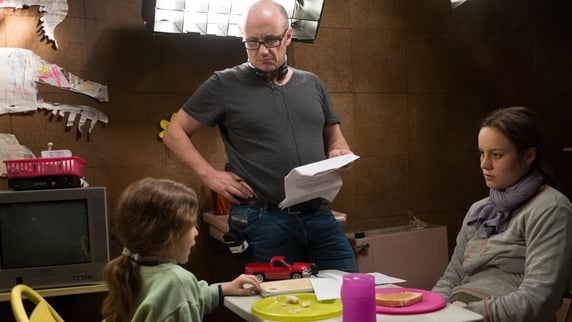 Lenny Abrahamson, Jacob Trembly and Brie Larson on the set of Room
Room does have two outlets into the outside world - an unreachable skylight (Wilde's little tent of blue springs to mind) and the similar dimensions of a battered old TV set. They are Jack's only experience of the possibility that there may be something beyond room and even then, they are rather one-dimensional.
He says hello to each feature in room every morning, listing out each item like old friends. It may be heartbreaking but he is content in his limited world. He does not know any better. But when Ma finally crumbles after a full seven years of denied freedom, the dynamic shifts. She begins to tell Jack that there is a big, beautiful world out there. He is initially contrary, refusing to believe it. "You mean Dora is for real?" he asks.  
Donoghue, who wrote the screenplay herself, insisted that Abrahamson did not use the customary Hollywood lever of emotional exploitation in his adaptation and this is no harrowing meditation on the banality of evil. Instead Room is a nuanced and beautiful story of love and survival in terrible circumstances. Abrahamson has shot the film in a wintry light and he makes incredible use of the limited space he is filming in with the small cast.
Larson thoroughly deserves her Golden Globe win and the Oscar nomination and newcomer Jacob Tremblay is extraordinary as Jack, who, when we first encounter him on the morning of his fifth birthday, looks more like a little girl than a boy.
The film's distributors have made the misjudgement of basically giving the movie away in the trailer. Clearly they were worried about deterring an audience who might think Room will be too painful to view. This was a mistake because this is a nuanced and deeply touching adaptation. It is a very moving portrait of motherhood, hope and determination, a brilliantly made film about the fight and right to freedom and the beauty of life.
Alan Corr