After box office and awards success, a TV spin-off of Irish movie Brooklyn is in the works - and the premise is a treat.
Film industry publication Screen Daily, which broke the story, says that Brooklyn's Oscar-nominated producers, Finola Dwyer and Amanda Posey, are developing a series which would focus on the boarding house where Saoirse Ronan's character Eilis lived in the big screen adaptation of author Colm Tóibín's bestseller.
The boarding house scenes were many viewers' favourites in Brooklyn, with screen veteran Julie Walters stealing the show as Mrs Keogh, the hardnosed-but-heart-of-gold landlady.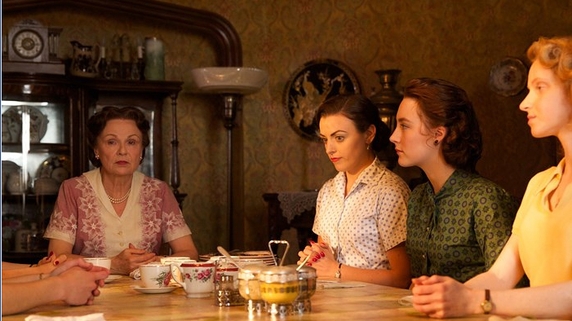 Mrs Keogh and her 'girls' - Comedy gold
Screen Daily says the producers are confident that Walters would reprise her role in the show, which would focus on the same group of young women from the movie. However, it is unlikely that Ronan would be back as Eilis on the small screen.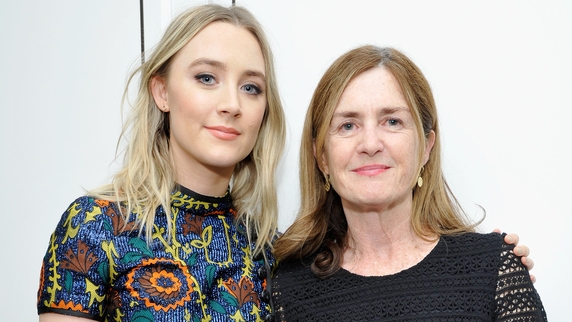 Saoirse Ronan and Brooklyn producer Finola Dwyer
Dwyer told Screen Daily that she had suggested the idea to author Tóibín before the first screenplay draft of Brooklyn had even been completed.
"We're talking to writers now and have a couple in our sights," she said.
She added that plans would be put in place once Brooklyn has finished its run in cinemas and the DVD campaign was completed.
Brooklyn star Walters is nominated in the Best Supporting Actress category at this month's BAFTA awards, which take place in London on Sunday February 14. Her nomination is one of six Brooklyn has received.
The John Crowley-directed romantic drama is also nominated in three categories at this year's Oscars: Best Film, Best Actress (Saoirse Ronan) and Best Adapted Screenplay (Nick Hornby). The Oscars take place on Sunday February 28.
Brooklyn is released on Blu-ray, DVD and Electronic Sell-Through (EST) on February 26.