The Stunning frontman and actor Steve Wall says that he's relishing playing "G" man Detective Coleman in RTÉ's 1916 Rising drama Rebellion.
Wall, who has previously appeared in Moone Boy, Vikings and opposite Donald Sutherland in new crime drama Crossing Line, takes centre stage in Sunday night's final episode when he goes on the hunt for Rising ringleaders and terrorises May (Sarah Greene) and Frances (Ruth Bradley) in what he calls "a nasty scene".
"I basically go looking for a couple of the girls. In episode one when I go into Liberty Hall I spotted Elizabeth there and Detective Coleman would know who she is, that her father's a banker and all that. I'm gunning for her as well..." Wall told RTÉ TEN.
"In the final episode, I pay a visit to Frances' house and it turns rather nasty. Coleman is a despicable enough character."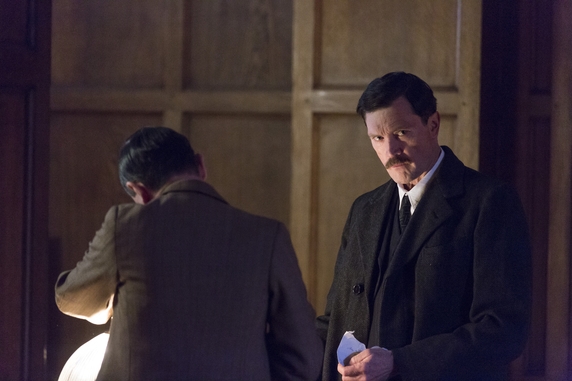 "Evil doesn't have to be immediately obvious" says Wall
It's not the first time that Wall, who still fronts The Stunning and The Walls with his brother Joe, has played a villain. He returns as the scheming Einar in the new season of Vikings and he's also a bit of a bad 'un in Crossing Line, which also stars Goran Višnjić of E.R. fame.
"I've been enjoying it because with bad guys because there's lots of different facets," Wall says. "Evil doesn't have to be immediately obvious. It can be darker and hidden behind a façade of nicety."
Wall said he put a good deal of research into the role of the saturnine Detective Coleman. He read up on the activities of Dublin Castle police and also met a member of the Garda Síochána Historical Society.
"The 'G' men were armed whereas the normal police on the beat, the DMP, weren't armed form Division A to F," says Wall. "But come Division G, they were armed and they were hated because they were basically snitches. The 'G' men would go down with the DMP and smash up the printing presses of Republican papers and arrest the staff."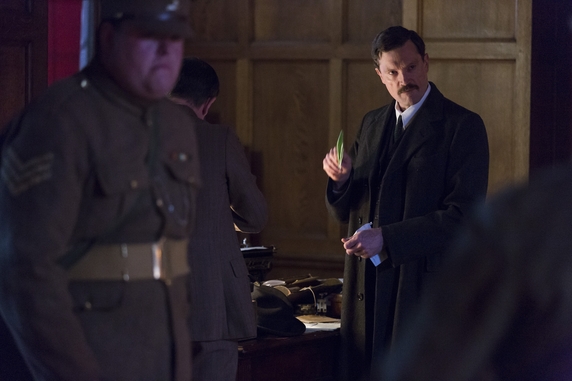 "The 'G' men were hated" says Wall
One of Wall's key lines in Rebellion was delivered last week; as the "G" men circle like vultures in the aftermath of The Rising, Coleman leads a British officer down a line-up in the courtyard of Richmond Barracks in Dublin, pointing out the Rising's ringleaders. They stop briefly at Michael Collins, and Coleman sneers, "He's a nobody." Words that would come back to haunt both the "G" Men and the British Empire.
Naturally there has been talk that Rebellion won't end tonight and that writer Colin Teevan will follow the characters through the War of Independence and the Civil War. Perhaps with Detective Coleman hunting down Collins and his men.
"I know that towards the end of the shoot there was talk of them continuing the story and it was only at the wrap party on the final day of shooting that I met Colin Teevan and he told me he was well on his way of writing season two," says Wall.
"That would be basically the War of Independence so it will be really interesting to see what happens there because it's an amazing story of families divided in such a small country. It would make for a fascinating series."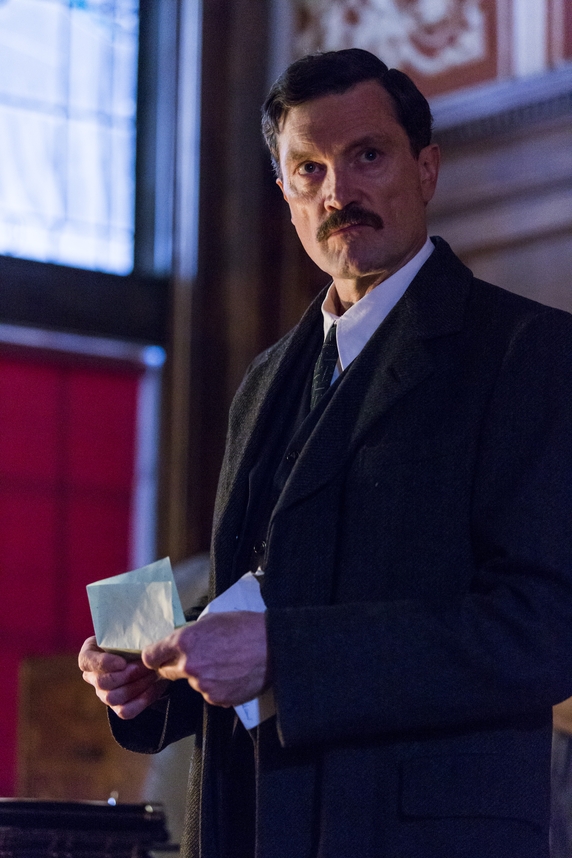 Dublin-born Wall has built up an enviable acting CV in the past few years. As well as his star turn in the much-loved Moone Boy, he also appeared in long-running BBC series Silent Witness last year and finally got to be a good guy in the role of Mountie, Sam Steele, in An Klondike for TG4, which is now on Netflix as Dominion Creek.
Last year he won Best Actor in a Leading Role at the San Diego Horror Film Festival for his performance as Peter in the short film Ghost Train, which also picked up awards on the festival circuit.
Like many of the cast members of Rebellion, Steve Wall has a direct connection with the events of 1916 and its aftermath. "My grandfather was involved in the Monreal ambush between Lahinch and Miltown Malbay," he says.
"It was an ambush of a convoy of Black and Tans by the local IRA and in the accounts that were written locally, my grandfather on my father's side was involved. I never met my grandfather but I'm named after him. His name was Stephen Wall."
The final episode of Rebellion airs tonight on RTÉ One at 9.30pm.
Alan Corr