The internationally renowned graffiti artist Banksy has denied being responsible for a mural which appeared overnight at the site of the surrender of the leaders of the 1916 Rising on Moore Street in Dublin. 
The work, which carries the artist's signature, is a twist on the famous photo of Padraig Pearse surrendering to the British General Lowe in 1916. However in this version the British soldiers are wearing builders' hi vis jackets.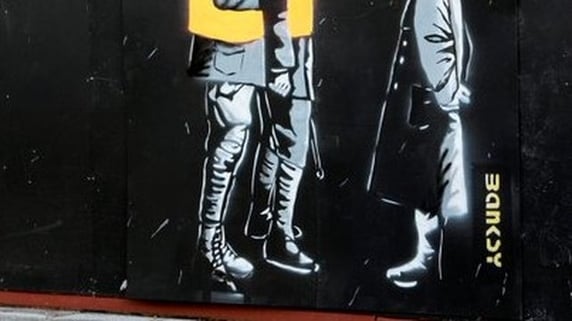 Banksy's agent has now conformed to The Irish Times that "this work is NOT by the artist Banksy". 
Earlier the well-known street artist and activist Will St Leger told RTÉ that given the stencil's amateur style, theme and the fact that Banksy doesn't sign his work in this way any more, he's 99.9% positive it's fake.
He said he thought the fact that the work is fake is a shame, because he felt the idea was a decent one and a good cause and the artist shouldn't be afraid to take ownership of it. 
Why would anyone put up a #stencil on Moore Street with #Banksy logo. When it's not his work - #cheap pic.twitter.com/PZgpnxqUpH

— Will St Leger (@WillStLeger) January 28, 2016
The Moore Street site has been the subject of controversy as four buildings relating to the 1916 Rising are to be preserved and restored while other buildings in the area are to be demolished to make way for the building of a shopping centre. 
#Banksy ?? appears in #MooreStreet Padraig Pearse standing up to unidentifiable builders #SaveMooreStreet pic.twitter.com/9Qd4NImlvE

— Save MooreStreet (@SaveMooreSt) January 28, 2016
Banksy's street art frequently features satire on political and social subjects, and has appeared on streets and walls around the world. 
The last confirmed piece by him was a Les Misérables-inspired mural opposite the French embassy in London, criticising the use of teargas at a refugee camp in Calais.