The late David Bowie repeatedly rejected requests from The Red Hot Chili Peppers to work with them, according to the band's lead singer Anthony Kiedis. Producer and muscian Brian Eno also turned the band down eight times.
Speaking to host Steve Jones of The Sex Pistols on Californian radio show Jonesy's Jukebox earlier this week, Kiedis revealed that Bowie, who passed away earlier this month aged 69, said no to them on more than one occasion.
"Every record we ever made, we had the band discussion. 'Who should we get to produce this record?', 'I don't know, we have to try someone new!' 'Let's get David Bowie!' 'Okay, let's call him.'" said Kiedis.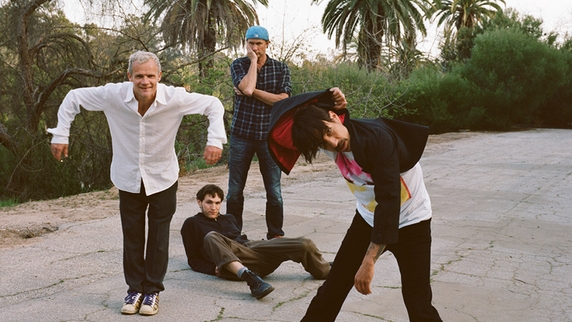 RHCP: Lads insane
"So in the beginning we would call him, and he would say 'no', respectfully. Then later we would write long emails explaining everything, and why it was time for us to really get our ships on, and he always respectfully declined. For two minutes I was heartbroken, and then I would hear [RHCP drummer] Chad Smith play drums, and I'd be like, 'We're good, we could do something else.'"

"We asked him to produce [2002 album] By the Way . . . and then we asked him again for our next record, which was [2006's] Stadium Arcadium. He said no to us two or three times, but his mate [Brian] Eno, who we've also been asking our entire career to produce a record for us, has said no eight times."

Last week Coldplay also revealed that Bowie politely refused to work with them after telling the band that the song they had sent him for consideration was "not very good."