NBC has order two comedy pilots from former Parks & Recreation stars Amy Poehler and Rashida Jones.
Poehler's untitled half-hour comedy has been written Charlie Grandy (The Mindy Project, The Office) and follows Karl, the "black sheep" in his family, who returns home after years of partying to compete with his brother for the family thrones. Poehler will executive produce the project with Grandy and Dave Becky.
Meanwhile, Jones' ensemble comedy Good Fortune is about a hyper-tense woman whose life is turned upside down after she starts taking advice from a mysterious fortune teller. It has been written by Craig Gerard and Matt Zinman (Telenovela), who will also executive produce alongside Jones.
The actresses played best friends Leslie and Ann on the much-loved NBC sitcom Parks and Recreation, which ran for seven seasons from 2009-2015, and they are equally close off-screen, with Jones making a speech at Poehler's Walk of Fame ceremony last year.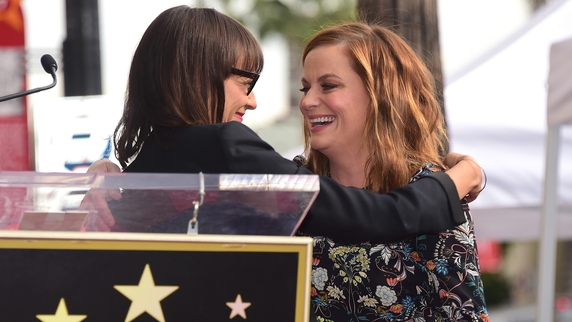 NBC orders pilots from Rashida Jones and Amy Poehler