Michael Keaton has told how he was deeply affected by new film Spotlight as he discussed his own Catholic faith.
The 64-year-old plays Boston Globe journalist Walter "Robby" Robinson, who led a team of reporters to expose widespread child abuse and systemic cover-ups in the Catholic Church in Boston.
Keaton became visibly emotional as he discussed a scene where Rachel McAdams's character tells her devout grandmother about the reality of her church.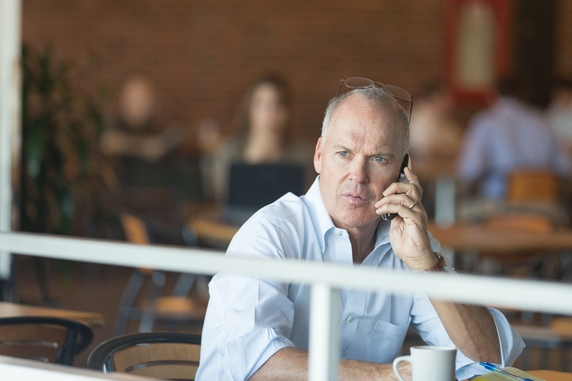 Michael Keaton in Spotlight
"My mother was a devout catholic and I was an altar boy. My mum went to mass every day and when I think of what (those revelations) would have done to her... I think that's big, it's one thing to do, but crushing someone's faith is another level."
The actor, who said he still "drops in" to church, denied that the film's aim is to "beat up" the Catholic faith.
He said: "I haven't been Catholic since I was an altar boy, there's no pretending, I'm lapsed... But as much as I hate what's happened in the world based on organised religion and people's alleged faith, I'm a defender and think it's good for people.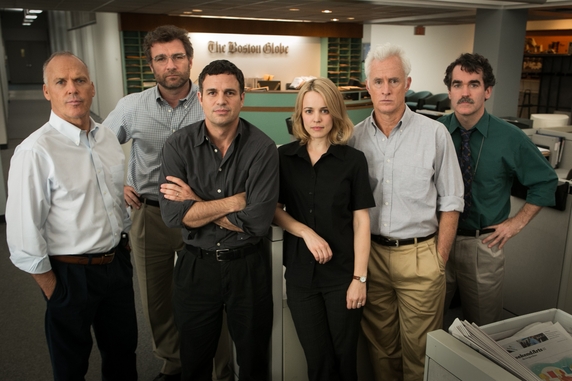 The cast of Spotlight
"I'm totally cool with my vision of what people call God and I'm good there, but what this movie's about is not religion, but institutions. It's about people who take power and seek power and use that power to disadvantage the disenfranchised and the powerless and it happens in a lot of places, literally all over the world."
The actor was speaking alongside Pulitzer Prize-winning journalists Robinson and Michael Rezendes, co-star Mark Ruffalo and the film's director Tom McCarthy.
Ruffalo, who is nominated for the best supporting actor Oscar for his portrayal of Rezendes, hailed the journalist as a "master" at what he does and said watching the two in action had reaffirmed his belief in the importance of the industry.
"I've always held (journalism) in high regard but what I got to learn from working with Mike and the rest of the Spotlight team was what deep commitment it takes and what it costs to do it."
Keaton added: "That's what we hope younger people, when they see this movie, can get excited about and feel the power."
Ruffalo praised the hard-hitting film as a rare opportunity.
He said: "It's one of those times that film is used as a tool to teach and coalesce ideas. It was a great honour to be in the right place at the right time to be in that dialogue, it doesn't happen often in your career."
The film has been nominated for six Academy Awards, including best picture, best director and best supporting actress for McAdams.
Spotlight is released in Irish cinemas on January 29.