Could we BE more disappointed! The much publicised Friends reunion has already had its first casualty after Matthew Perry confirmed that he won't be able to join his former cast mates on the upcoming TV special.
Perry, who played Chandler Bing in the hit comedy series said it is "not the reunion everyone is hoping for", adding that he is unable to be there in person.
Earlier this week the US network NBC said the cast would reunite for a two-hour special to be broadcast as a tribute to director James Burrows.
But Perry said his five co-stars - Jennifer Aniston, Courteney Cox, Lisa Kudrow, Matt LeBlanc and David Schwimmer - will feature on the special, while he will introduce them from London where he is doing a play.
Perry told The Graham Norton Show that the rumours of a Friends reunion weren't quite true.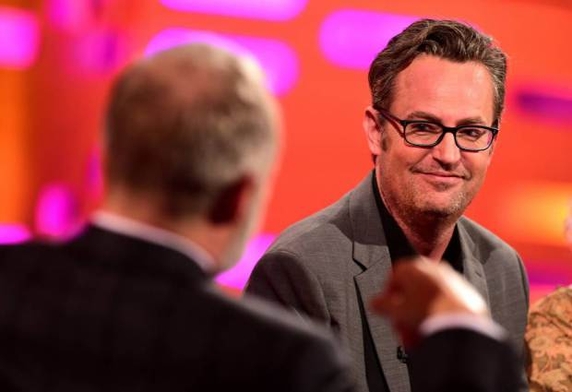 Mathew Perry appears on The Graham Norton Show
"It's not true. It's not the reunion everyone is hoping for - they are celebrating Jim Burrows who was a director of Friends. The other five are going to be on this special and I am going to introduce them from London. I'm doing the play here so I can't be there."
Efforts to bring all six cast members together on television have proved difficult in the past, and that appears to still be the case. Since the series finale in 2004, there have been frequent reports and rumours of a reunion.
Despite being off-air for over a decade the show is still as popular as ever thanks to nearly endless re-runs.

Asked if he knew the show would be such a hit, Perry said: "I knew it would be a success and that we had something special, but I didn't know the giant hit it would become."
The television special will be recorded in Los Angeles later this month, and is scheduled to air on NBC on February 21.