Given his stature as one of rock's true greats, many tributes have been paid to David Bowie, who has died at the age of 69 after a long battle with cancer.
Rolling Stones star Mick Jagger, who collaborated with Bowie on the 1985 hit Dancing in the Street, posted a heartfelt message to his Twitter account remembering his inspirational friend.
"David was always an inspiration to me and a true original. He was wonderfully shameless in his work," Jagger tweeted. "We had so many good times together. He was my friend, I will never forget him."
U2 posted a photo of Bowie with Bono on the band's twitter account. The caption reads: "Planet Earth is blue - Bono", a reference to Bowie's first big hit, Space Oddity.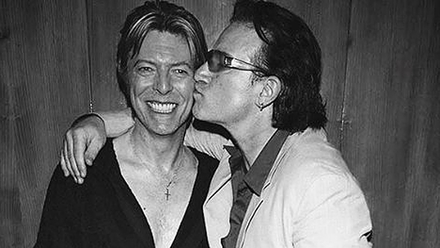 U2 posted this image of Bono with Bowie on Twitter along with the message "Planet Earth is blue"
Rapper Kanye West tweeted: "'David Bowie was one of my most important inspirations, so fearless, so creative, he gave us magic for a lifetime. I pray for his family and friends.''
Fellow musician Paul McCartney also took to social media to remember the late star. He posted a picture of himself and Bowie together on Facebook, with the message: "Very sad news to wake up to on this raining morning. David was a great star and I treasure the moments we had together.
"His music played a very strong part in British musical history and I'm proud to think of the huge influence he has had on people all around the world. I send my deepest sympathies to his family and will always remember the great laughs we had through the years. His star will shine in the sky forever."
Actor Russell Crowe posted: '"RIP David. I loved your music. I loved you. One of the greatest performance artists to have ever lived. #sorrow"

Golden Globe Awards host Ricky Gervais, who got Bowie to appear on his 2006 sitcom Extras, tweeted: "I just lost a hero. RIP David Bowie."
"An artist, musician, actor and innovator..." @SineadCrowley reports on the life of legendary singer David Bowie https://t.co/U25BGRabsK

— RTÉ News (@rtenews) January 11, 2016
The German government credited Bowie with "helping to bring down" the Berlin Wall.
A message on its foreign office Twitter account read: "Good-bye, David Bowie. You are now among #Heroes. Thank you for helping to bring down the #wall."
Producer and long-time Bowie collaborator Tony Visconti, said in a statement on Facebook: "He always did what he wanted to do. And he wanted to do it his way and he wanted to do it the best way. His death was no different from his life - a work of Art.
"He made Blackstar for us, his parting gift. I knew for a year this was the way it would be. I wasn't, however, prepared for it. He was an extraordinary man, full of love and life. He will always be with us. For now, it is appropriate to cry."
Yoko Ono also took to Twitter to remember the artist, who she described as being like family to her and her late husband John Lennon. Ono posted a photograph of her, Lennon and Bowie together to Twitter with a lengthy tribute describing the bond her and Lennon's son Sean shared with Bowie, who became a father figure to him following Lennon's death in December 1980.
It read: "John and David respected each other. They were well matched in intellect and talent. As John and I had very few friends we felt David was as close as family. After John Died, David was always there for Sean and me. When Sean was at boarding school in Switzerland, David would pick him up and take him on trips to museums and let Sean hang out at his recording studio in Geneva. For Sean this is losing another father figure. It will be hard for him, I know. But we have some sweet memories which will stay with us forever.
Gene Simmons, from rock band Kiss, was one of many musicians to cite Bowie's influence on their careers. He tweeted: "David Bowie, you will be sorely missed. Bowie's 'Changes' and the Ziggy story songs were a major influence for me."
Singer Madonna wrote on Twitter: "I'm devastated". This great Artist changed my life! First concert i ever saw in Detroit! R.IP. #rebelheart
"Talented . Unique. Genius. Game Changer. The Man who Fell to Earth. Your Spirit Lives on Forever! #rebelheart." Posting a picture of the pair together, she added: "So lucky to have met you!!!! Hot Tramp I love you So! #rebelheart"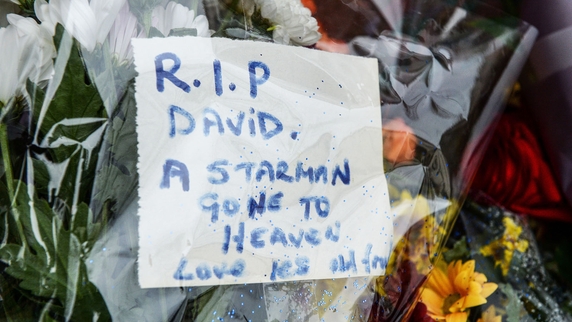 Fans have been paying tribute to the star by laying flowers and messages outside his childhood home in Brixton, London
Singer Marc Almond was even more emotional. He wrote: "It's not often I truly cry at the loss of an artist but I'm devastated. He meant so much. Goodbye David Bowie and our youth. We loved you. X

"There will never be another that comes close. It's too much . Just can't take it in. Black day!"

Singers Gary Numan and Alison Moyet also paid tribute to the singer, whose real name was David Jones. Numan simply wrote: "A True Legend. David Bowie. RIP." Moyet added: ''David Bowie. Our greatest, gone and here forever. A world's heart breaks. #Bowie (sic)''

Comic Eddie Izzard said the 69-year-old star would ''live forever through his music'' and appealed for a global musical tribute. He wrote: ''Very sad to hear about the death of David Bowie but through his music he will live forever. Please could every radio station around the globe just play David Bowie music today - I think the world owes him that.''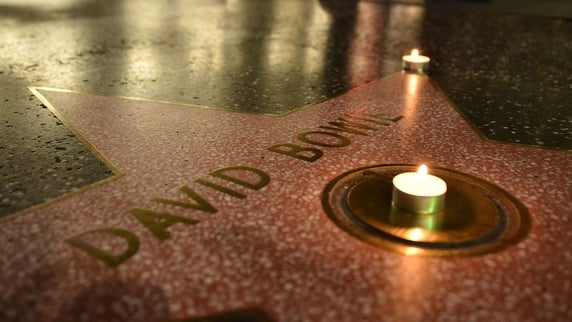 Bowie's star on the Hollywood Walk of Fame has been adorned with candles
RTÉ's Dave Fanning has paid tribute to David Bowie saying that he was 'brilliant' and his ability to change and experiment was his trademark. He said that no two albums were the same.
"I mean he was everything under the sun with every different album. He completely and absolutely changed [music]. Never brought out two albums the same, always went into different kinds of music.
"I mean even after, if you take the big breakthrough album for him would have been probably Ziggy Stardust and Spiders from Mars which was about the fourth album by him.
"By the sixth one he was on Soul Train in the States doing soul music as good as the next of them with the Young Americans album, two albums later."
The DJ, who met Bowie a number of times, said the singer loved to dabble in far-out reaches of music and art and that the biggest male star in the 70s, for him, was David Bowie.
"Without a doubt, the biggest male person in the 70s was David Bowie because everything he did, it wasn't just real Bowie freaky fans and that, it was much bigger than that.
"When hits in the charts meant something he had loads of hits. And then he kept going with them afterwards. And then he went into the 80s with Ashes to Ashes and all of that. To be honest he lost his way in certain 90s albums but he was still the man."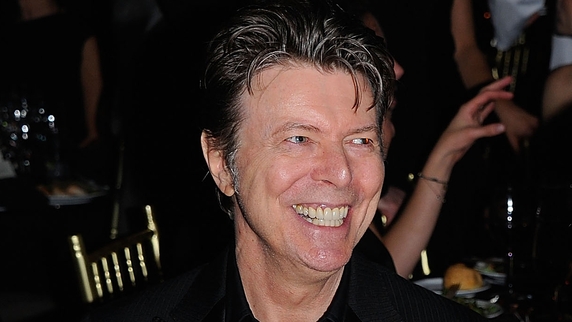 Writer and broadcaster John Kelly said David Bowie was a remarkable artist who lead and changed culture. He said he did not believe that younger people today have experienced an artist of his calibre.
"He changed the culture, you know. And he changed art. And he lead art and he lead culture. And he also followed it very successfully as well. He was a great man for figuring out what the zeitgeist was about to be and becoming it himself. He was quite a remarkable, remarkable artist.
"And I think a lot of younger people nowadays listening to music and the way it's presented to them and so on maybe haven't experienced in their own time an artist of this sort of calibre."
Stuart Clarke, the assistant editor of Hot Press magazine, said that Bowie was endlessly fascinating and he kept on caring and reinventing until the end.
He also pointed out that, aside from his close inner circle and family, no one really knows Bowie but that we saw constructs of the man.
"He was a real chameleon and a magpie, he did some stealing don't worry about that. But in 18 months in the 70s he released Ziggy Stardust, Aladdin Sane and Diamond Dogs," he said. "That is crazy. Three albums that to this day that are absolute landmarks."
David was always an inspiration to me and a true original. He was wonderfully shameless in his work. 1/2

— Mick Jagger (@MickJagger) January 11, 2016
We had so many good times together. He was my friend, I will never forget him. 2/2 pic.twitter.com/9xfPj88x8b

— Mick Jagger (@MickJagger) January 11, 2016
Planet Earth is blue - Bono pic.twitter.com/p4GVmnuQql

— U2 (@U2) January 11, 2016
Thoughts and heart with David's family and loved ones 💔 https://t.co/juboSMMK6h

— Sam Smith (@samsmithworld) January 11, 2016
David Bowie, you will be sorely missed. Bowie's "Changes" and the Ziggy story songs were a major influence for me. pic.twitter.com/N1nkD9h82W

— Gene Simmons (@genesimmons) January 11, 2016
David Bowie was a true innovator, a true creative. May he rest in peace 🖖🏾 #RIPDavidBowie

— Pharrell Williams (@Pharrell) January 11, 2016
RIP David . I loved your music. I loved you. One of the greatest performance artists to have ever lived. #sorrow

— Russell Crowe (@russellcrowe) January 11, 2016
RIP to a true legend. David Bowie pic.twitter.com/hAfuRb67nv

— Randy Jackson (@YO_RANDYJACKSON) January 11, 2016
Please could every radio station around the globe just play David Bowie music today - I think the world owes him that.

— Eddie Izzard (@eddieizzard) January 11, 2016
Such shocking, awful news. RIP David Bowie.

— Piers Morgan (@piersmorgan) January 11, 2016
Totally shocked. Absolutely not getting head around this one #DavidBowie .

— Niall Breslin (@nbrez) January 11, 2016
David Bowie was one of my most important inspirations, so fearless, so creative, he gave us magic for a lifetime.

— KANYE WEST (@kanyewest) January 11, 2016
I pray for his friends and family.

— KANYE WEST (@kanyewest) January 11, 2016
The many faces of David Bowie #rip #davidbowie https://t.co/60qmyrWKCU

— RTÉ TEN (@RTE_TEN) January 11, 2016
I just lost a hero. RIP David Bowie.

— Ricky Gervais (@rickygervais) January 11, 2016
Very sorry and sad to say it's true. I'll be offline for a while. Love to all. pic.twitter.com/Kh2fq3tf9m

— Duncan Jones (@ManMadeMoon) January 11, 2016
Rip Father of all us freaks. Sad sad day. Love always Legendary singer David Bowie dies at 69 https://t.co/ezRx7NVhSC # via HuffPostEnt

— Mark Ruffalo (@MarkRuffalo) January 11, 2016
So very sad to hear that David Bowie has died ... a musical God of my time .. only met him once, but he was a total gentleman #RIP X

— Carol Vorderman MBE (@carolvorders) January 11, 2016