Brooklyn star Saoirse Ronan has hit out at the lack of good roles for female actors in her age group, saying that often "you're just the crutch to somebody else".
Having already won numerous awards for her portrayal of Irish emigrant Eilis Lacey in the John Crowley-directed film adaptation of the Colm Tóibín bestseller, the 21-year-old is among the Golden Globe nominees this weekend for her Brooklyn performance.
In an interview with US trade publication Variety, Ronan said she felt she needed to make a film like this coming-of-age story, at this stage in her career.
"I think you need it in order to show everyone, 'Look, I'm not 12 any more'," she said. 'I'm not Briony (her character in the 2007 film Atonement) any more or I'm not Hanna (her hero in the 2011 film of the same name)'."
She went on to say that she felt that a lot of the roles for her age group are quite basic and "overly sexualised".
"I kind of think, 'What are you supposed to do with it?' You're either, like, the sister or the secretary. A girl who's coming into womanhood around the age of 20... everything is changing for you."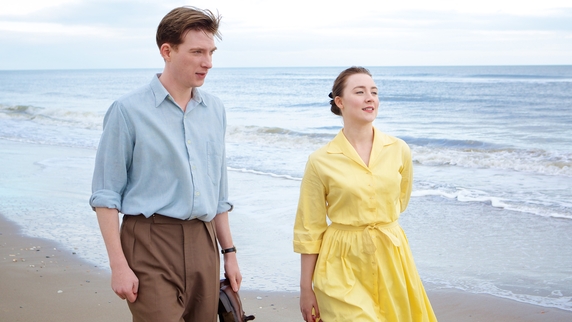 Saoirse Ronan with Domhnall Gleeson in Brooklyn
Ronan said she hoped the status quo would start to change in the near future.
"We can show, in films, women who are really coming into their own or just figuring s*** out or whatever. It's fascinating, and I don't know why that isn't being documented more."