Hozier has capped off a phenomenally successful year with news that Take Me to Church was the third biggest single single in the UK for 2015.
The Wicklow singer amassed combined sales of 1.25 million for his breakthrough single after it spent twenty weeks in the top 40.
However it's the only song in the top five that didn't actually reach number one after it peaked at number two for four consecutive weeks. Pipping Hozier to number one for three of those weeks was Ellie Goulding's Love Me Like You Do from the soundbrack to 50 Shades of Grey which was the fourth best seller of 2015.
It hardly comes as any surprise that the best selling single was Mark Ronson's ubiquitous hit Uptown Funk with sales of 1.76 million followed by the summer smash hit Cheerleader (Felix Jaehn Remix) by OMI with sales of 1.52 million.
Despite only being released in October, Adele's Hello managed to finish sixth place in the list.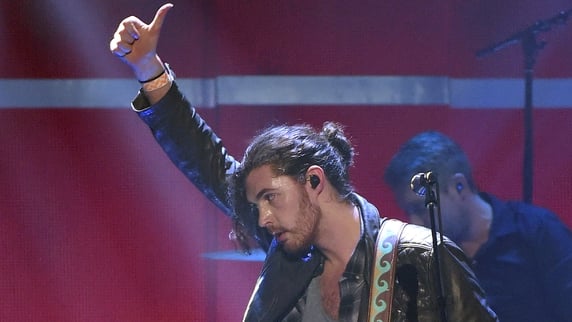 Hozier has now firmly established himself as a name to be reckoned with in Britain and back in December Take Me to Church was named Song of the Year at the BBC Music Awards in Birmingham. 
Last month he told TEN that he was already working on a new album and said he hopes it will live up to the success of his hugely successful debut.
"It is a little bit daunting because it was a commercial success that I did not expect. No matter what decisions I make some of the audience of this album might follow on with me and some won't. I think all I can do is trust my instincts as I did the first time round and just be true to myself," he said.
The best-selling UK singles of 2015 were:
1. Uptown Funk - Mark Ronson ft Bruno Mars
2. Cheerleader (Felix Jaehn Remix) - OMI
3. Take Me To Church - Hozier
4. Love Me Like You Do - Ellie Goulding
5. See You Again - Wiz Khalifa ft Charlie Puth
6. Hello - Adele
7. Lean On - Major Lazer ft MO & DJ Snake
8. Hold Back The River - James Bay
9. What Do You Mean - Justin Bieber
10. Sorry - Justin Bieber