Charlie Murphy, who plays one of the four female lead characters in the new RTÉ 1916 drama series Rebellion, has revealed that she was drawn to the story as it's part of her heritage.
The five-part drama, stars Sarah Greene, Ruth Bradley, Sophie Robinson and Brian Gleeson, and charts the pivotal events in Ireland from the outbreak of World War One to the Rising in Dublin in Easter 1916.
Speaking to TEN on the set of the show, she said of taking on the role: "One of the main things that drew me to this is that it is a huge privilege to be able to recount something about your own heritage but then looking at these characters in the script, I just thought I can't pass this up. It's very rare."
The Love/Hate star also opened up on her character Elizabeth Butler, a middle-class woman who becomes swept up in the rebel cause.
Murphy said: "She is from quite a well-off background, her father is a banker, she's very privileged she's studying in the Collage of Surgeons and dabbles in theatre a bit and kind of gets swooped up with the ICA."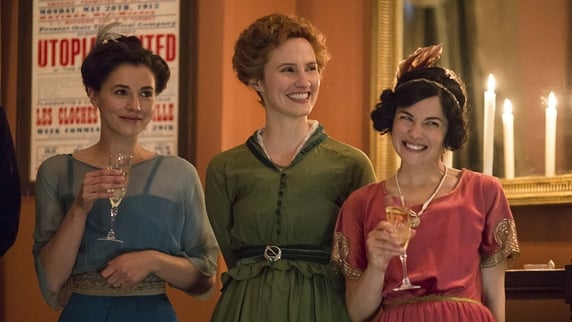 Charlie Murphy, Ruth Bradley and Sarah Greene in Rebellion
Costume designer Alison Byrne told TEN about the greatest challenges in creating the costumes for the series, which was a balance between being historically accurate and bringing the characters to life.
She said: "We have to verify everything historically, it has to be accurate, but also it's a drama, the main story is a drama with this huge background with this history we learned in school. For me it was a huge journey because what I rememberd in school was nothing compared to the detail we've gone into now. Suddenly it was about people's stories, reading people's accounts, the craziness of a rebellion happening on your streets."
Byrne added the the most terrifying thing about being a costume designer on the show was to bring to life the central female characters, saying: "The four women come from completely different worlds, they're completely different, and to try and portray them individually and to make them interesting and that they have a whole life behind them and they're clothes are just clothes, that's the biggest challenge."
Watch TEN's interviews with Charlie Murphy and Alison Byrne by clicking the links.