The Irish love story Brooklyn has taken the runner-up spot on key US industry publication The Hollywood Reporter's Best Films of 2015 list, with the harrowing Ukrainian drama The Tribe in first place.
Hailing Brooklyn, the Hollywood Reporter's Chief Film Critic, Todd McCarthy, described director John Crowley's film of Colm Tóibín's best-selling novel as "wondrous" and "the ultimate feel-good immigration story".
"But it put this crusty part-Irishman through the emotional wringer more than any film has in decades," wrote McCarthy.
"I was a hopeless blob of jelly by the end, and I salute director John Crowley's achievement with unreserved admiration, as it's so rare. Impeccable."
McCarthy's Top Ten list was completed by: Son of Saul, The Revenant, The Diary of a Teenage Girl, Anomalisa, Mad Max: Fury Road, Seymour: An Introduction, 45 Years and Carol.
To find out the TEN team's Films of 2015 click here.
Brooklyn, which stars Saoirse Ronan, Domhnall Gleeson, Emory Cohen, Julie Walters and Jim Broadbent, is on a remarkable run of awards and accolades.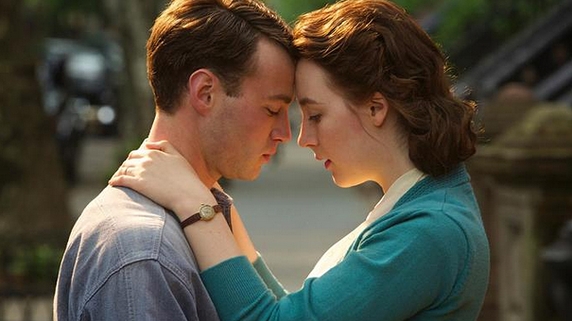 Saoirse Ronan and Emory Cohen in Brooklyn
Star Ronan is nominated for Best Actress at next month's Golden Globes and earlier this month was honoured for her performance at the British Independent Film Awards. She won the New Hollywood award at the Hollywood Film Awards in November and is among the nominees for the upcoming Screen Actors' Guild and Critics' Choice Awards in the US.
Brooklyn has also won People's Choice and Audience awards at the Denver, Vancouver, Virginia and Mill Valley film festivals, among others. The film, which is still running in Irish cinemas, tells the story of Eilis Lacey (Ronan), who leaves 1950s Ireland for New York. There she falls in love but later has to choose between her life in the US and her life back home.
Irish eyes are now on the Golden Globes, which will take place on Sunday January 10.