Homeland star Mandy Patinkin has called on the US to do more for those who have fled the civil war in Syria and to rethink elements of its foreign policy.
In an interview with trade publication Variety, the actor recounted how he had visited a refugee centre on the Greek island of Lesbos when filming concluded last month on the fifth series of Homeland - a season which has devoted much screentime to the so-called Islamic State and events in Syria. 
"I just wanted to connect with reality as opposed to the fictional world I was living in," he said. "I just wanted to be of some use to those people who have been living through a literal hell. This could have been my family 70 years ago escaping the Nazis."
Having experienced and helped the refugees arriving on Lesbos, the actor said he was shocked at the attitude towards Syrian refugees on his return home.  
"There has not been a single incident of terrorism in this country since 9/11 committed by a political refugee - this is a fact," he said. "People who are on the terrorist watch list in the country can buy a gun legally. These are the people we should be afraid of, not these refugees."
Patinkin is working with humanitarian organisation the International Rescue Committee to raise funds for their work and he and his wife, actress Elizabeth Grody, have befriended a Syrian family who have settled near them in New Jersey.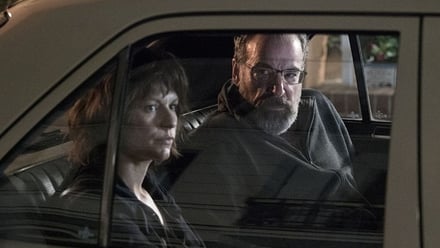 Patinkin with co-star Claire Danes in Homeland
Describing his Homeland character, CIA agent Saul Berenson, as "a deeply optimistic, hopeful human being", Patinkin said the writers of the series are "writing what we're all living".
As for the show's direction in season six, the actor said he would like to see Saul becoming even more outspoken.
"I want to see Saul make it clear to everyone in the intelligence industry that what [the US] has been doing with drones and violence and warfare and revenge tactics doesn't work," he said. 
"We have won the battle but lost the war. I want Saul to get the message across that the billions and billions of dollars that we have spent fighting terrorism isn't working. We need to spend this money to give people a better life. That's how you battle ISIS. That's how you give people hope."