The IFI will host a ciné-concert featuring a programme of newsreels documenting events immediately preceding and following the Uprising in Dublin in 1916 on Easter Sunday. Newsreels from international archives will also be shown to musical accompaniment at the cinema in Dublin's Temple Bar.
In a collaboration with RTÉ 1916, Easter Monday will feature free screenings of The Young Cassidy (1965), the Jack Cardiff/John Ford fictionalised biopic of Sean O'Casey. After '16, a series of short films from the Irish Film Board/Bord Scannáin na hÉireann, inspired by 1916 will also be screened.
The extensive IFI programme will use the events of 1916 as a point of departure from which to examine Ireland on film over the past 100 years. Fiction films will address the 1916 – '22 period in dramatic form, while a series of feature documentaries will provide state-of-the-nation reflections on Irish society in the decades since. The programmes will be presented in the IFI, at regional partner venues and globally, with the support of Culture Ireland, through IFI International.
During March, the IFI will host five key events comprising of work by John Ford, David Lean and Jack Cardiff. The month-long series starts with the 1926 drama, Irish Destiny accompanied by a solo performance of a score by composer Mícheál Ó Súilleabháin.
It continues with John Ford's adaptation of Sean O'Casey's The Plough and the Stars, starring Barbara Stanwyck and Barry Fitzgerald. This will be followed by a screening of Ryan's Daughter (1970), David Lean's passionate love story set against the backdrop of 1916. Both of these screenings will be preceded by an introduction from a leading Irish cultural commentator.
Nationally, the IFI will present Mise Éire, Irish Destiny, and The Plough and the Stars at venues around the country, including Limerick, Wicklow and Galway. A series of walking tours and film screenings connected with 1916 architecture has also been devised for the busy programme of events.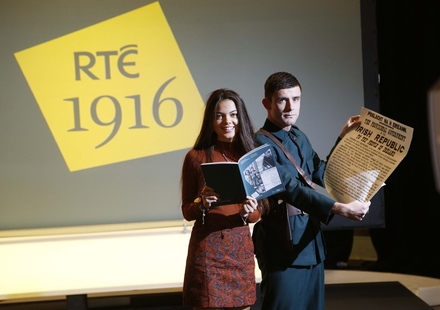 Events kick off with a presentation by the IFI, RTÉ and Gael Linn, of newly restored Mise Éire with live music and narration at the National Concert Hall in January; a screening of Ryan's Daughter in University Concert Hall, Limerick in February; a presentation of Irish Destiny with a newsreel and accompanied by live music by Mícheál Ó Súilleabháin in the Mermaid Arts Centre, Bray.
A screening of The Plough and the Stars will take place at NUI Galway and Mise Éire will be shown at University Concert Hall, Limerick, both screenings taking in May