He may be playing villain General Hux in Star Wars: The Force Awakens, but Domhnall Gleeson showed just how strong the Force is in him when he managed to continue a radio interview with Ryan Tubridy after being involved in a minor crash.
Gleeson was on his way by taxi to the airport to catch a flight to Los Angeles for the premieres of Star Wars: The Force Awakens and his other new film, the wilderness adventure The Revenant, when the crash occurred.
"Ooh, we just crashed," he said quietly on Tubridy's RTÉ Radio 1 show on Friday morning.
When the host asked him if he was alright and if was he in Dublin or London, Gleeson replied: "No, in London, speeding towards - not speeding, going at a reasonable rate! I don't want to get this guy in trouble! Excellent driver! We're going to the airport."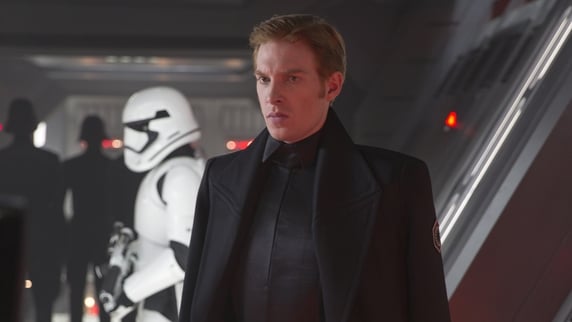 Gleeson as General Hux in Star Wars: The Force Awakens
Composure recovered, Gleeson continued talking about his upcoming movies and the joy he takes personally in the shared experience of watching films in a cinema.
"When you go and there's a lot of people in the room and you all experience something at the same time there's a buzz about that," he said. "With stuff like Star Wars and The Revenant there's an excitement about what's happening on screen as well which does mean you're kind of turning to the person sitting next to you and saying, 'I can't believe this is happening!' And then they say, 'Please leave me alone; I don't know you'. And you just keep watching, if possible."
On the subject of the secrecy surrounding Star Wars: The Force Awakens, he said: "They've tried to keep their cards pretty close to their chest and it's bizarre that it's worked so far. They've kept a lot of the movie just for the movie when you go to the cinema, which I think is impressive. "
He said his character in the JJ Abrams-directed blockbuster is "probably not classed as a nice man" and given that he wears black and has an English accent, it's easy to work out that he's the villain. 
"You would think one of these people would start wearing white in an attempt to infiltrate the disgusting do-gooders. But no, they keep on wearing black and keep on being spotted coming a mile away!" he laughed.  
Gleeson described Abrams' direction of the movie as "incredible". "He's really good with actors and action, which is not a usual combination a lot of the time. Directors are either good at one or the other - or neither! The fact that he's so brilliant at both is amazing, I thought."
When pressed by Tubridy about where he placed on the spectrum of Star Wars fandom, Gleeson replied:
"I was born in '83 so by the time I was watching films it was more '89. So the original trilogy had been to the cinema and gone by the time I was going to the cinema when I was a kid. I'd seen them on TV in bits and pieces and then I went to the cinema to see the prequels.
"The really exciting thing about this thing was I got to go back and see the originals on a reasonably big screen while I was doing prep for this which really blew my mind and really kind of reignited a love for them. That's what I'm most excited about: seeing this one in a cinema . . . The notion of people gathering together to see something really cool is I think what Star Wars is all about."
When Tubridy said that he felt the Abrams film would rescue the Star Wars story from the previous three films, Gleeson replied: "I don't know that it needs rescuing. However people feel about the trilogies, the original trilogy still means as much to people as it always did.
"I don't think there's anything you can do even if you don't like Jar-Jar Binks - it's not going to make you hate the originals! And you can't take any of the love for the originals either and just presume that that's enough for this new film to work - just because you've shot using practical effects and less CGI and all the rest of it."
Gleeson went on to describe the effect Star Wars has on people as "absolutely insane".
"There is something unapologetically epic and not childish but childlike in the way it makes you feel about the whole thing," he enthused. "I do think there's a chance that this film will really do that again and we'll get to the epic of the original three."
And on the subject of fandom, Gleeson paid special tribute to his close friend, Eoin, "a big Star Wars nerd".
"He's a good man," he said. "He has recently become a father and yet Star Wars holds a very special place in his heart."
So special, in fact, that when Gleeson gave Eoin a figure of his character in The Force Awakens as
"a weird backslapping gift", his friend "held it more tenderly than he held his own child!".
Eoin and the rest of us can enjoy Star Wars: The Force Awakens in cinemas from December 17.