Harrison Ford is one of the few people lucky enough to have seen Star Wars: The Force Awakens already and he has described is as a "wonderful" film. If it's good enough for Han Solo...
Ford may have broken his leg on set while filming scenes for the latest Star Wars adventure, but he's a big fan of the finished product.
"It was great. It's a wonderful movie, it's got great production values," he said on Good Morning America. "It's a real big movie and I was delighted to see it."
Ford previously spoke about reprising his role of Han Solo and reuniting with his co-star Peter Mayhew, who plays Chewbacca.
"They were very much like an old married couple to start with. I think people will find them very much the same as ever," he told Empire magazine.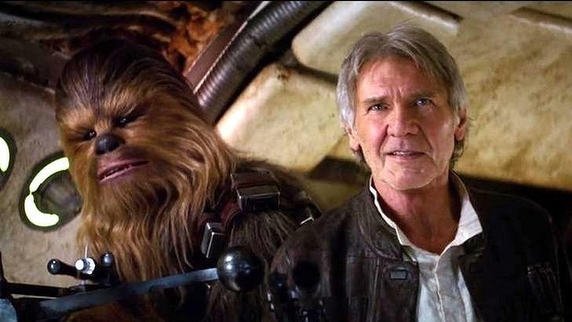 Chewbacca and Han Solo are like an "old married couple" now
The pair enjoyed a long-awaited reunion on set, more than 30 years after 1983's Star Wars Episode VI: Return Of The Jedi.
"I was sitting in my trailer. There was a knock at the door and someone shouted: 'Where's that walking carpet?' It was Harrison. He came in, gave me a big hug and said, 'welcome back'," said Mayhew.
"We still have the same bond, we look after each other. We are like a married couple. Especially when we're in the cockpit together. I like it. It was as warm, as fuzzy as you might imagine. It was great to see old friends."
Star Wars: The Force Awakens hits cinemas on December 17.