JJ Abrams has said he hopes to make Star Wars more appealing to women with the new instalment, The Force Awakens, urging mothers to take their daughters to see it in the cinema.
Speaking on Good Morning America the filmmaker said he hopes to change the belief that Star Wars is a franchise for boys only.
"Star Wars was always a boy's thing. I was really hoping this could be a movie that mothers could take their daughters to as well," he said.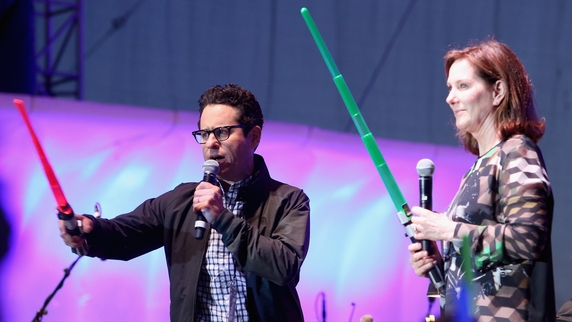 Abrams with producer Kathy Kennedy
He added, "I'm just looking forward to kids seeing this movie and seeing themselves in it, and seeing that they're capable of doing things they never thought possible."
Abrams also discussed his mixed feelings towards taking the helm of the new film, "It was something that I loved so much and I thought it would be better just to see it, to go to the theatre like everyone else."
The chance to work on it was "too delicious and too exciting" for him to pass up, however.
Star Wars: The Force Awakens hits cinemas on December 18.