Louis Walsh has revealed that he was on board to take part in this year's series of I'm A Celebrity... Get Me Out Of Here! until Simon Cowell talked him out of it.
The latest series of I'm A Celebrity ... Get Me Out Of Here!, launched on Sunday night and when the celebrity line-up was revealed many were disappointed that Walsh, who was rumoured to be going into the jungle, was not included.
Walsh said of his decision to back out of the show, "I was supposed to be doing it. I met them three times, I was nearly going ... Simon told me he didn't think it would be good for my credibility. He actually talked me out of it. Otherwise I was going to do it."
The former X Factor judge isn't ruling out a future appearance on the hit show however, "I might do I'm A Celebrity next year. I'm going to keep the door open. It depends who you're in with, but then they don't tell you who you're going to be in with. And you're in Australia for three weeks, no food, no sleep, people you don't like. I can't swim. I don't like bugs, I don't like spiders, I'd be totally out of my comfort zone. Totally!
"But then X Factor's a bit of a jungle too. It's a three month jungle as opposed to three weeks."
Former I'm A Celeb... star Nadia Forde recently told TEN that she wanted Walsh to go into the jungle more than any other celebrity, adding that she was very excited to watch the show this year from the comfort of her own home.
"I just can't wait to see it. I can't wait to see what batch of people they put in this year, I'm a big fan of the show so I can't wait to just watch it, from the other side now, from the warmth of my house with my clothes and my food and not starved," she said.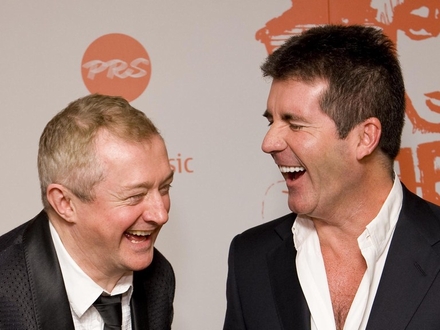 Louis Walsh and Simon Cowell have kept in touch following Walsh's X Factor departure
Walsh was an X Factor judge from the show's inception in 2004 until he was replaced for the 2015 series, and he revealed that he still keeps in touch with Cowell to let him know how he thinks the show is getting on without him, "I talk to him all the time. I rang him after the first show and said: 'You've ruined the show.' I was ranting and raving at him.
"He wasn't happy, but the following day he said: 'You were right!' But I think a lot of people are afraid to tell him the truth. I'm not."
Walsh added: "I think they've changed it far too much, because people love the old fashioned: in the room, people coming in, and just being honest about their lives. There was no big audience there roaring and shouting, it was just you and them."
On whether he could make a return to the judging panel next year, Walsh said: "I don't know if I want to go back. I've done 11 years. I'd only want to go back if it was going to be fun. Fun! Fun and the old X Factor, when he [Cowell] was fun, and when we were all having a laugh but still caring about our job."