Hundreds of theatre practitioners from all over Ireland gathered at the Abbey Theatre on Thursday for a discussion on female participation in theatre and the arts.
The movement 'waking the feminists' began on social media at the end of last month, when the Abbey revealed details of its 2016 programme, Waking the Nation.
Only one of the ten plays on the programme was written by a woman, and just three out of these plays will be directed by women. The board and director of the Abbey have since accepted it's programme does not represent gender equality.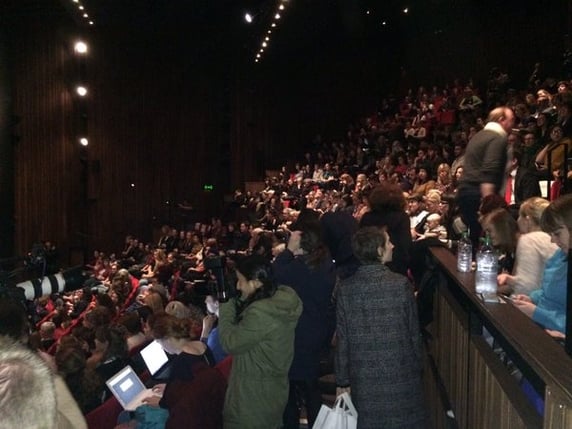 The Abbey Theatre packed to capacity
In a statement issued on Monday, WakingTheFeminists has called on the Board of the Abbey Theatre to "lead the way in establishing equality for women artists" and says its overall objective is equality for women.
Since the Abbey programme launch for Waking The Nation on October 28, the hashtag  #WakingTheFeminists has generated significant online attention - both on social media and in the national press.
International actors including Cherry Jones, Brian F O'Byrne, Mona Eltahawy, Debra Messing and even Meryl Streep have supported the group and an online petition was signed by 1531 people in its first 20 hours.
Meryl Streep, Christine Baranski, Laoisa Sexton and @lisatk are #WakingTheFeminists @WTFeminists @lianbell pic.twitter.com/dJyOIl7k5P

— Lisa Tierney-Keogh (@lisatk) November 12, 2015
I STAND WITH YOU WOMEN IN THEATRE #IRELAND 🍀🍀🍀 #THEABBEYTHEATRE pic.twitter.com/gGkCbNdAFZ

— Debra Messing (@DebraMessing) November 8, 2015
In a recent open letter following the controversy, the Director of the Abbey, Fiach MacConghail, said "the fact that I haven't programmed a new play by a female playwright is not something I can defend" and said the experience "has made me question the filters and factors that influence my decision-making."
He said that both himself and board would do everything to ensure that gender equality will get the attention it deserves.
"The board of the Abbey Theatre have made a committment to devise a gender led policy with regards to working in theatre particularly with writers and for that to be implemented over the coming years", he said.
Women making noise so future generations won't have to. #WakingTheFeminists pic.twitter.com/FScP0sqxrr

— Roisin Ingle (@roisiningle) November 12, 2015
This morning Irish women, having no other option, are taking over our national theatre. We may not give it back. #WakingTheFeminists

— Eleanor Tiernan (@eleanortiernan) November 12, 2015
If I could be anywhere in the world right now, it would be the AbbeyTheatre for #WakingTheFeminists

— Audrey O'Reilly (@AudreyFilm) November 12, 2015
#WakingTheFeminists incredible words by women on the @AbbeyTheatre stage.

— Moya Doherty (@doherty_moya) November 12, 2015