There are days when I feel like I've reached peak Twitter, particularly in the evenings when my thumb aches from constantly finding out what people I've never met are saying about a TV programme I'm not watching.
In the past two weeks however, I've watched with fascination as social media in general and Twitter in particular has facilitated a movement that I genuinely don't think would have happened so fast or grown so quickly had it been solely dependent on traditional means of communication.
On 28 October, the Abbey Theatre launched its programme for 2016 and, almost immediately, women began to point out the lack of female representation both on and off stage.
In the past an issue like this might have generated letters to a newspaper or angry comments at the next available meeting of like minded theatre practitioners.
In this case however, many people 'took to Twitter' to voice their concerns and by 31 October, Lian Bell was collating their views under the hashtag #wakingthefeminists.
Huge FB activity re @AbbeyTheatre & @fmacconghail's male-heavy #WTN programme. Will start tweeting quotes here now. #WakingTheFeminists

— Lian Bell (@lianbell) October 31, 2015
Soon, many other theatre practitioners and people from the wider artistic community were joining in.
First response from @olwenfouere. #WakingtheNation #WakingTheFeminists pic.twitter.com/rwSqfRjrVx

— Lian Bell (@lianbell) October 31, 2015
The conversation simmered and then boiled over until it seemed like everyone with any connection to the arts was talking about the Abbey, and women in the arts in general.
Blogs on a similar theme were linked to and women from all over the artistic world gave voice to dissatisfaction that might have been given oxygen by the Abbey launch but clearly existed long before it.
Abbey Director Fiach Mac Conghail then answered some of his critics, again on Twitter. From a PR point of view, this initial engagement was not a success. Indeed some of his comments merely generated more frustration but his use of the medium certainly kept the debate alive.
All my new play choices are based on the quality of the play, form and theme. It's my call and I'm pleased with the plays I picked for #wtn

— Fiach Mac Conghail (@fmacconghail) October 29, 2015
Representative organisations like Theatre Forum joined in while those who wanted to use more than 140 characters shared their views in more traditional forums like the letters page of the Irish Times.
Traditional media then came fully on board with many columnists writing about the issue, particularly in the Sunday broadsheets.
There even followed that development so beloved of Twitter devotees – the celebrity endorsement.
I STAND WITH YOU WOMEN IN THEATRE #IRELAND 🍀🍀🍀 #THEABBEYTHEATRE pic.twitter.com/gGkCbNdAFZ

— Debra Messing (@DebraMessing) November 8, 2015
To give them due credit, both the Abbey and Fiach Mac Conghail responded relatively quickly to the outcry, admitting in a statement that the 2016 programme did not represent gender equality.
Statement on behalf of the Board and Director of the Abbey Theatre #WakingTheNation #WakingTheFeminists pic.twitter.com/8ApyJyBPFm

— Abbey Theatre (@AbbeyTheatre) November 9, 2015
An open letter to everyone taking part in the debate on #WakingtheNation #WakingTheFeminists https://t.co/PyKzOzOwn5

— Fiach Mac Conghail (@fmacconghail) November 6, 2015
It has now been confirmed that, less than two weeks since the initial tweets started appearing, a public meeting of interested parties will be held in the Abbey itself on Thursday afternoon.
So, in an era where people 'take to Twitter' to sound off about everything from national politics to the cost of their lunch, why has this particular campaign been so successful?
I think there are a few important elements.
First of all, there was a sense of coherence to the campaign. There was very little in-fighting on the various threads. In the main the people who tweeted were of one mind and felt they had a strong argument that they wanted to put forward.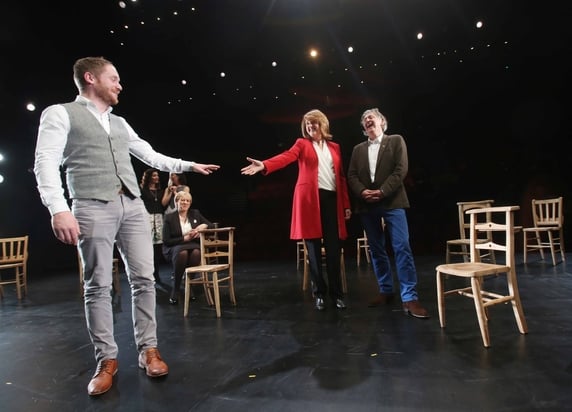 The contributions were mostly measured and didn't simply focus on the negative. People offered alternatives, plays to watch or artists to follow, and suggested that this issue should be used as a starting point for something positive rather than just another online rant.
Lian Bell, with whom the series of tweets initiated, was a lively and engaged moderator who didn't just retweet opinions; she offered explanations and context and made the campaign feel like a living and organic thing.
And the hashtag 'Waking the Feminists' was memorable, catchy, and leapt out at you if you came across it cold on a timeline.
We'll see what change, if any, comes out of Thursday's meeting but for now, it does seem that this is one social media storm that could bring about some real life change.
The launch of the Abbey Theatre's programme of events for 2016 provoked outcry in the artistic community when it emerged that, of the ten plays the theatre had programmed, only one, a monologue for children was written by a woman.
Less than two weeks after the initial tweets on the subject began to appear, the theatre has admitted its programme was not gender balanced and a public meeting has been organised at the theatre itself to discuss the issue.
Sinéad Crowley, Arts and Media Correspondent