Star Wars: The Force Awakens actors John Boyega and Peter Mayhew are among those who have paid tribute to Daniel Fleetwood, the terminally ill fan who was the subject of a global campaign to allow him to see the blockbuster before his passing.
The 32-year-old Texas resident died earlier this week, just days after he was shown an early cut of the blockbuster. 
He had been battling spindle cell sarcoma - a type of connective tissue cancer - and was given two months to live in July.
Social media and stars of the film including Mark Hamill (Luke Skywalker) mobilised in a bid to grant him his dying wish with the hashtag #ForceForDaniel. Disney and Lucasfilm showed the longtime fan Star Wars: The Force Awakens at his home on November 5. Daniel had been telephoned by the film's director, JJ Abrams, the day before.
Writing on Facebook, Daniel's wife Ashley said he had put up an amazing fight against cancer.
"He is now one with God and with the force. He passed in his sleep and in peace. He will always be my idol and my hero," she wrote.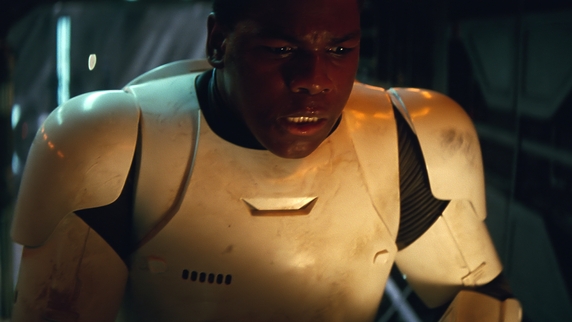 John Boyega in Star Wars: The Force Awakens
Paying tribute on Twitter, Boyega, who plays Finn in the film, wrote: "#ForceForDaniel glad you got to see the movie more importantly that you slept in peace. God bless you man x x you inspire me xx." His co-star Mayhew, who plays Chewbacca, also saluted Daniel's life and spirit.
pic.twitter.com/kSnLpW6hZ0 pic.twitter.com/iWyKGMP1My — Peter Mayhew (@TheWookieeRoars) November 10, 2015