Brooklyn, starring Saoirse Ronan and Domhnall Gleeson, made Irish box office history at the weekend, claiming the biggest opening of any Irish film in Ireland since Michael Collins in 1996.
The adaptation of the Colm Tóibín bestseller took over €605,000 in Ireland following its release on November 6, overtaking recent Irish hits The Guard (€570,000), Angela's Ashes (€557,500), In Bruges (€482,000) and Calvary (€462,000). Opening on 87 screens gave Brooklyn the largest screen count ever in Ireland for an Irish film.
An estimated take of €1,458,851.33 in the UK and Ireland combined means Brooklyn was the number one opener at the weekend.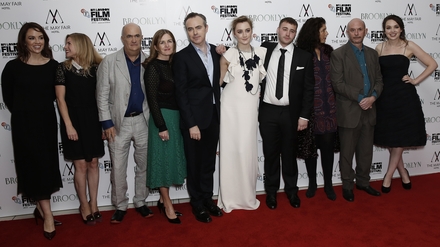 The cast of Brooklyn at the European premiere in London
Following its world premiere at the Sundance Film Festival in January 2015 and having since played at the Toronto International Film Festival and had a gala presentation at the London Film Festival, the John Crowley-directed romantic drama has been nominated for five British Independent Film Awards. Brooklyn's nominations are for Best Actress (Saoirse Ronan), Best Screenplay (Nick Hornby), Best Supporting Actress (Julie Walters), Best Supporting Actor (Domhnall Gleeson) and Outstanding Achievement in Craft (Fiona Weir – Casting).
There is also a lot of talk that Brooklyn will be nominated for several Oscars. Speaking about the buzz, Carlow native Ronan said: "It is nice and it is lovely. But the good thing about having that sort of discussion around it now, touch wood, is that when you've been on both sides of it and had both perspectives... It's great and everything works out well when it comes to buzz, but then nothing comes of it, but the film is still great and you love it.
"The talk of an Oscar has helped me realise all the elements that go into that whole world."
Read our review of Brooklyn here.