The Lobster, which was filmed in Ireland and stars Colin Farrell, has received five nominations at this year's European Film Awards, making it the joint most-nominated film at the prestigious event.
The movie, which filmed in Dublin and Kerry, is nominated in the Best Film, Best Actor (Farrell), Best Director (Yorgos Lanthimos) and Best Screenwriter (Lanthimos and Efthymis Filippou) categories and a previously announced technical win for costume design (Sarah Blenkinsop).
This follows last week's announcement that the film topped the nominations for British Independent Film Awards with an incredible seven nominations in total.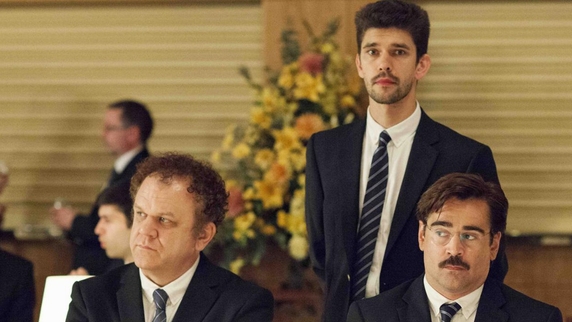 The 28th European Film Awards will be held on 12 December in Berlin where more than 3,000 EFA members will vote on the winners.

The Lobster is a love story set in the near future where single people, according to the rules of The City, are arrested and transferred to The Hotel. There they are obliged to find a matching mate in 45 days. If they fail, they are transformed into an animal of their choosing and released into The Woods. A desperate Man escapes from The Hotel toThe Woods where The Loners live and falls in love, although it is against their rules.
Read TEN's review of The Lobster here
It has grossed over €1.4 million at the box office across Ireland and the UK which is a pretty good return for an independent film.The film is also currently on release in France, Benelux, Australia and Greece where it is returning strong box office figures. It will be released across the globe over the coming months.

Full list of European Film Awards Nomination
Best European Film
"The Lobster"
"Mustang"
"A Pigeon Sat on a Branch Reflection on Existence"
"Rams"
"Victoria"
"Youth"
Best European Director
Malgorzata Szumowska, "Body"
Yorgos Lanthimos, "The Lobster"
Nanni Moretti, "Mia Madre"
Roy Andersson, "A Pigeon Sat on a Branch Reflection on Existence"
Sebastian Schipper, "Victoria"
Paolo Sorrentino, "Youth"
Best European Actor
Michael Caine, "Youth"
Tom Courtenay, "45 Years"
Colin Farrell, "The Lobster"
Christian Friedel, "13 Minutes"
Vincent Lindon, "The Measure of a Man"
Best European Actress
Margherita Buy, "Mia Madre"
Laia Costa, "Victoria"
Charlotte Rampling, "45 Years"
Alicia Vikander, "Ex Machina"
Rachel Weisz, "Youth"
Best European Screenwriter
Radu Jude and Florin Lazarescu, "Aferim!"
Alex Garland, "Ex Machina"
Andrew Haigh, "45 Years"
Yorgos Lanthimos and Efthymis Filippou, "The Lobster"
Roy Andersson, "A Pigeon Sat on a Branch Reflection on Existence"
Paolo Sorrentino, "Youth"
Best European Documentary
"Amy"
"Dancing with Maria"
"The Look of Silence"
"A Syrian Love Story"
"Toto and His Sisters"
Best European Animated Feature
"Adama"
"Shaun the Sheep Movie"
"Song of the Sea"
Best European Comedy
"The Belier Family"
"The Brand New Testament"
"A Pigeon Sat on a Branch Reflecting on Existence"
Fipresci Prize – Best European Discovery
"Goodnight Mommy"
"Limbo"
"Mustang"
"Slow West"
"Summers Downstairs"
Best European Short
"Dissonance"
"E.T.E.R.N.I.T."
"Field Study"
"Kung Fury"
"Listen"
"Our Body"
"Over"
"Picnic"
"The Runner"
"Smile, and the World Will Smile Back"
"Son of the Wolf"
"Symbolic Threats"
"This Place We Call Our Home"
"The Translator"
"Washingtonia"
TECHNICAL WINNERS (previously announced)
Best European Cinematographer
Martin Gschlacht, "Goodnight Mommy"
Best European Editor
Jacek Drosio, "Body"
Best European Composer
Cat's Eyes, "The Duke of Burgundy"
Best European Production Designer
Sylvie Olive, "The Brand New Testament"
Best European Costume Designer
Sarah Blenkinsop, "The Lobster"
Best European Sound Designer
Vasco Pimentel and Miguel Martins, "Arabian Nights"