Did anyone else think that Stacey was seeing things when she saw mystery person carrying the same key that her brother Sean gave her after she was electrocuted in Halloween night? Apparently the mystery person is real and will soon return to Walford.
The mystery surrounding Stacey Branning's (Lacey Turner) key has been frustrating viewers since it first made it appearance in March 2014, but fans will get some relief as soap boss Dominic Treadwell-Collins has promised some answers in the coming weeks.
Treadwell-Collins decided to answer some curious tweets from fans who are eager to get to the bottom of the ongoing mystery. He promised that we will only have to wait a little bit longer to get some answers.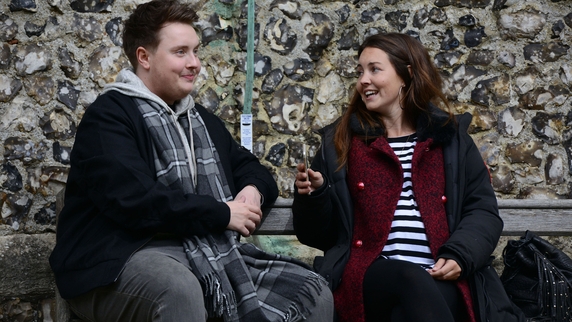 Riley Carter Millington (Kyle) and Lacey Turner (Stacey) on the set of EastEnders
All we know about the key at the moment is that it has some sort of family connection as earlier this year it was revealed that Stacey received the key from her brother Sean, and it once belonged to their dad.
However the mystery thickened on Halloween night after secretive newcomer Kyle appeared in Walford sporting a mysterious key of his own, hinting that he could be connected to Stacey in some way.
EastEnders announced they had cast the part of Kyle in October, revealing that the character will become a permanent addition to the cast later this year.
Kyle is played by trans actor Riley Carter Millington.

@SuseHill @Matt528chap All will become clearer (well a little clearer) in a few weeks' time...

— DomTreadwellCollins (@dominictc) November 6, 2015