Phil Collins has revealed he had never heard of Adele when she called him and asked if he would work on her new album.
I'd never heard of her, " he  told The Telegraph. "Apparently I'm the only person in the world who can say that."
They met up to talk about a collaboration but it didn't get beyond the conversation. "I'm not good at playing with other people on the piano," the former Gensis front-man declared. "I'm very limited. I doodle around and play what I play."
He has already sold in excess of 300 million albums, both as solo artist and as drummer with Genesis and then the band's lead singer, following Peter Gabriel's departure. Remastered and expanded editions of Phil's solo albums, Face Value and Both Sides will be released by Warner Bros on January 29.
The 64-year old musician is still regularly sampled by R'n'B and hip hop artists and has started assembling material for a new solo album. He recently signed a deal to write his autobiography for publication next year by Penguin Random House.
"Being away from it for a while, I'm not saying you get scared but you get used to not doing it." In 2011, Collins famously declared: "I look at the MTV Music Awards and I think: 'I can't be in the same business as this.'"
So he duly retired shortly afterwards. "I felt I was owed the right to sit on a sofa and watch television, because I had never done that." He reveals that he began to drink too much. "I was a bit miserable but I was also enjoying it. But I hurt myself with the drinking, my health suffered, so I had to cut that out. I haven't had a drink in three years. And here I am now."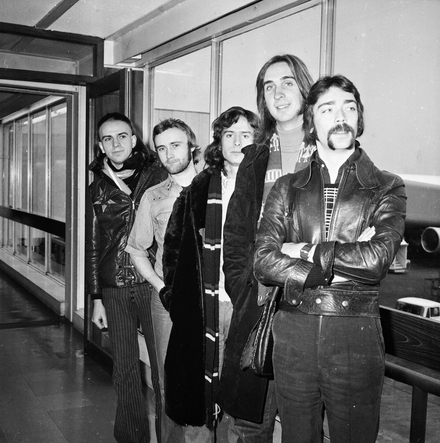 Genesis circa 1966, with singer Peter Gabriel at the rear and Phil Collins standing immediately in front of him.
The musician is well aware that his (unfairly attributed) reputation as a bland pop merchant goes before him. "I used to get offended by it, he says. "I felt ostracised." He describes his heavy bass drum signature from the single In The Air Tonight - later used in a TV ad campaign featuring a gorilla playing the drums - as "one of the nooses around my neck." Collins made history in 1985 by performing at both Wembley stadium and Philadelphia's JFK stadium on Live Aid, courtesy of a Concorde flight.