John Niven's 2008 novel Kill Your Friends was an expert skewering of the bloated Brit Pop years as seen through the eyes of Steven Stelfox, a Machiavellian A&R man who reckons murder is just another step on the career ladder.
Niven, who worked briefly as an A&R man himself at a time when the UK industry was awash with cash, wrote with a brittle, unforgiving style that recalled Bret Easton Ellis' American Psycho and Martin Amis' gloriously decadent novel Money.
Kill Your Friends was a deeply unlovely and compelling black comedy with a loathsome but seductive anti-hero but sadly it has not made a fully successful transition to the big screen. The main problem could be the casting of Nicholas Hoult as Stellfox. Hoult is a fine actor for sure but he's just too damn good-looking and smooth as the dark-hearted record company man. Hoult's craven A&R man has the killer instinct but his insecurities never seem entirely convincing.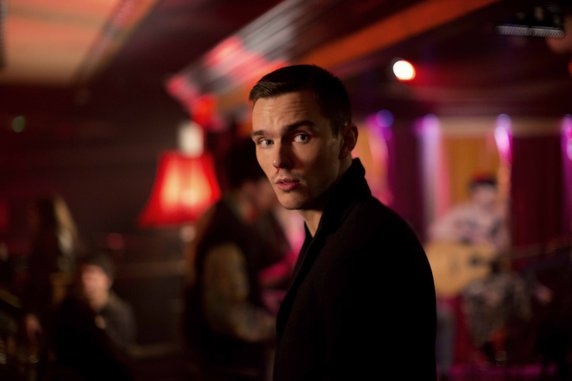 Hoult is the suited, booted and rabidly ambitious as Stelfox
Stellfox snorts, drinks and connives his way around London just as Britpop is turning darker and losing itself in delusions of grandeur. Blair is about to sweep to power and Diana is about to crash into the concrete wall of history. There is a sense of state-anointed revolution in the air and music is still a genuinely universal soundtrack. Napster and Apple are not yet even rumours and Stelfox sees himself as a master of the music universe.
As the suited, booted and rabidly ambitious exec confides in one of his straight-to-camera monologues, "Drive your enemies before you and listen to the lamentations of their women" but when the industry begins to change, Stelfox has to resort to slightly unorthodox methods to satisfy his career ambitions.
It certainly wears its 18 cert with pride. The scenes of violence and industrial-strength drug-taking are graphic and made all the more shocking by the relative knockabout nature of the rest of the production in terms of design, plot progression and pacing. Irish fans of Niven's book may be a little disappointed by the absence of the Dublin episode when Stellfox is sent to check out a rising Irish act and describes the city in terms that would make Joe Duffy nod in agreement.
The supporting cast, including Craig Roberts as an overly keen indie urchin and James Cordon as a perma-stoned colleague who is Stellfox's rival for promotion, are strong but you will spend a good deal of Kill Your Friends waiting for the inevitable scene when our anti-hero has a cocaine-frazzled breakdown while weeping and clawing the screen as Radiohead's video for Karma Police plays on MTV.
It has a few laughs but as any A&R man of the era will tell you, life is full of missed opportunities.
Alan Corr