Pitch Perfect star Rebel Wilson has revealed that she will appear in the upcoming Absolutely Fabulous movie, and she's even waved her fee for the chance to work with Jennifer Saunders and Joanna Lumley.
Wilson told Australian radio's Kyle and Jackie O Show, "I'm actually doing a movie for a favour in a couple of weeks. I'm gonna film the Absolutely Fabulous movie in London. It's just a little cameo as a favour...
"It's huge in the UK and I did that thing where you go up to someone you really admire and say, 'If you ever, ever need me for a movie or anything I'll do it for free'. So now I have to go all the way to London, for no money."
The movie already boasts a strong cameo cast including Kate Moss, Emma Bunton, Lulu and David Gandy, with Kim Kardashian and Glee's Chris Colfer rumoured to make an appearance.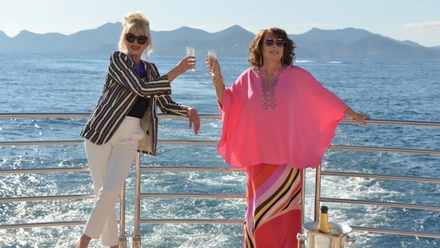 Appropriate for their cinematic debut, Edina and Patsy are still oozing glitz and glamour, living the high life they are accustomed to; shopping, drinking and clubbing their way around London's trendiest hotspots.
Blamed for a major incident at an uber fashionable launch party, they become entangled in a media storm and are relentlessly pursued by the paparazzi. Fleeing penniless to the glamorous playground of the super-rich, the French Riviera, they hatch a plan to make their escape permanent and live the high life forevermore.
The film is currently shooting on location in the UK and France with its release set for 2016.