John Banville hasn't written it yet, but his next Benjamin Black novel will be a murder mystery set in the year 1600 in Prague.
Speaking to RTÉ TEN Banville revealed that Quirke, the weary and wary Dublin pathologist, who is the chief character of most of the Benjamin Black novels to date, will be given a rest for a while as he goes dramatically back in time to pen a new Benjamin Black.
The television adaptation of Benjamin Black's Quirke novels was screened on RTÉ One in February 2014, in three feature-length episodes starring Gabriel Byrne (pictured below) as the pathologist determined to get to the bottom of murky business.
Set in 1950s Dublin, the drama series also starred former Tudors actor Nick Dunning as Quirke's half-brother Malachy, Michael Gambon as patriarch Judge Garret Griffin, and Aisling Franciosi  as Quirke's free-spirited niece Phoebe.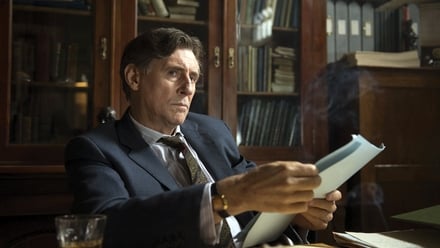 As for Raymond Chandler, Banville declared that he will not write another Philip Marlowe book unless they make a movie of The Black Eyed Blonde.
The Black Eyed Blonde was also written by Banville as Benjamin Black, with sanction from the Raymond Chandler Estate. Arguably the best Benjamin Black novel to date, it featured a new LA adventure for Chandler's best-known creation, the morose, regretful detective, Philip Marlowe.