Awards season has officially kicked off with the 19th Annual Hollywood Film Awards taking place on Sunday night, and the Irish were well represented with our own Saoirse Ronan taking home the New Hollywood Award.
Ryan Gosling presented Ronan with the award but in his speech joked that she is "hardly new to Hollywood" as she is 21-years-old and "she's already done close to that many films."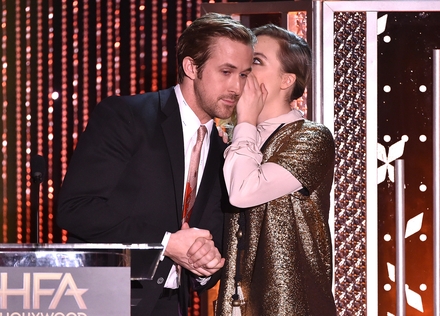 Ronan starred in Gosling's directorial debut Lost River last year and he added that she is "not only one of my favourite actresses, but one of my favourite people" and he even gave the audience a quick lesson in how to properly pronounce her name.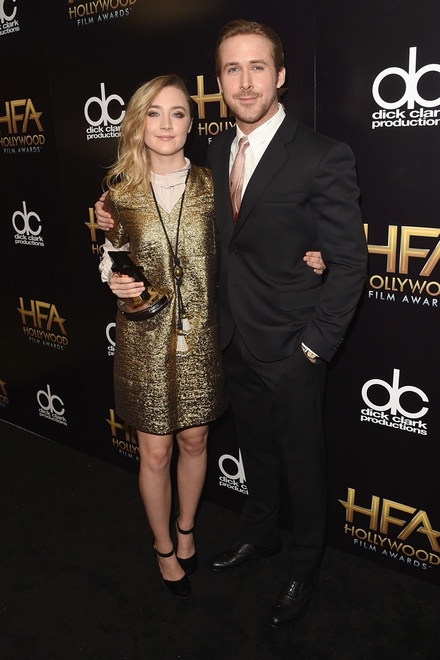 "It's not Say-or-see or Seer-say or Sor-cery but it probably should be...it's Ser-sha, like inertia," he explained.
You can watch Gosling's full speech here:
.@RyanGosling takes the stage to honor Saoirse Ronan with the New Hollywood Award for her role in #Brooklyn. #HFAs https://t.co/4t6w78KOhY

— Hollywood Awards (@hollywoodawards) November 2, 2015
Hollywood legend Robert De Niro was another big winner receiving the Hollywood Career Achievement Award, while Carey Mulligan and Will Smith took home the awards for Hollywood Actress and Hollywood Actor respectively.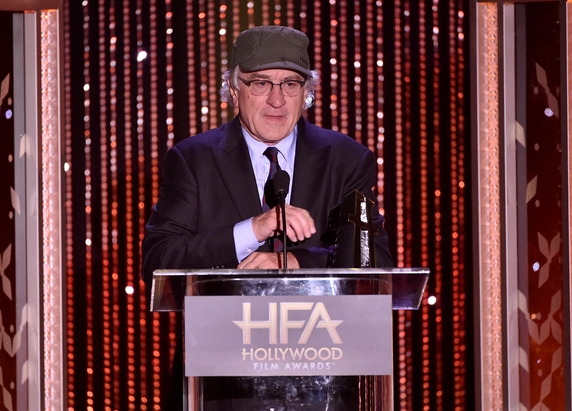 Robert De Niro
The ceremony, which was hosted by James Corden, celebrated many films which are not yet on general release but are expected to feature prominently in the awards race, which will culminate with the Academy Awards on February 28, 2016.
British director Tom Hooper, who is responsible for The King's Speech and Les Miserables, was given the Hollywood Director Award for his new movie The Danish Girl, which stars Oscar winner Eddie Redmayne as a transgender pioneer in the 1920s.
Redmayne's co-star, Ex Machina's Alicia Vikander, was presented with the Hollywood Breakout Actress Film for her role as his wife.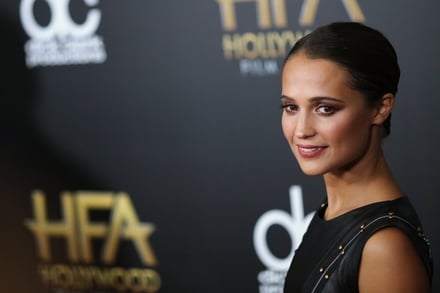 Alicia Vikander
Speaking on the red carpet at the Beverly Hilton Hotel, the Swedish actress said: "I've only been in this room once before in my life and that was three years ago at the Golden Globes with a foreign film. I thought it was an experience I could tell my grandkids about, that I went to this Hollywood awards thing and saw all these people I looked up to and admired.
"I never thought I would work with some of the directors and actors that I met here and to be back is extraordinary."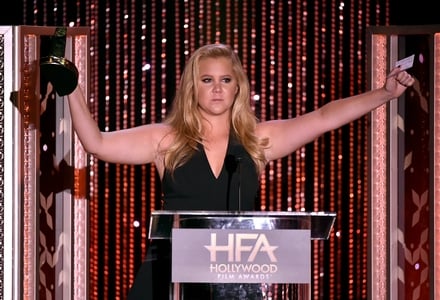 Amy Schumer
The Hollywood Breakout Actor Award was given to Australian star Joel Edgerton for his performance as a corrupt FBI agent in Black Mass, and Amy Schumer took home the Hollywood Comedy Award for Trainwreck which she wrote and starred in.
Check out all of the best pictures from the night in our gallery.
Winners in full:
Hollywood Career Achievement Award
Robert De Niro, presented by David O. Russell
Hollywood Producer Award
Ridley Scott for The Martian, presented by Russell Crowe
Hollywood Director Award
Tom Hooper for The Danish Girl, presented by Amber Heard
Hollywood Actor Award
Will Smith for Concussion, presented by Jamie Foxx
Hollywood Actress Award
Carey Mulligan for Suffragette, presented by Jake Gyllenhaal
Hollywood Supporting Actor Award
Benicio Del Toro for Sicario, presented by Reese Witherspoon
Hollywood Supporting Actress Award
Jane Fonda for Youth, presented by Laura Dern
"Hollywood Breakout Actor Award
Joel Edgerton for Black Mass, presented by Johnny Depp and Dakota Johnson
"Hollywood Breakout Actress Award
Alicia Vikander for The Danish Girl, presented by Armie Hammer
New Hollywood Award
Saoirse Ronan for Brooklyn, presented by Ryan Gosling
Hollywood Ensemble Award
The Hateful Eight cast including Kurt Russell, Jennifer Jason Leigh, Channing Tatum, Bruce Dern, Tim Roth, Michael Madsen, Walton Goggins, Demian Bichir, presented by Jamie Foxx
Hollywood Breakout Ensemble Award
Straight Outta Compton cast including Corey Hawkins, O'Shea Jackson, Jr. & Jason Mitchell, presented by Ice Cube
Hollywood Comedy Award
Amy Schumer for Trainwreck, presented by Selena Gomez
Hollywood Breakthrough Director Award
Adam McKay for The Big Short, presented by Steve Carell
Hollywood Screenwriter Award
Tom McCarthy and Josh Singer for Spotlight, presented by Mark Ruffalo
Hollywood Blockbuster Award
Furious 7 (award accepted by Vin Diesel, Tyrese Gibson, Jordana Brewster, Michelle Rodriguez), presented by Kurt Russell
Hollywood Song Award
Wiz Khalifa and Charlie Puth for "See You Again" from the Furious 7 soundtrack, presented by Vin Diesel
Hollywood Animation Award
Inside Out (award accepted by director Pete Docter), presented by Amy Poehler
Hollywood Documentary Award
Asif Kapadia for Amy
Hollywood Cinematography Award
Janusz Kaminski for Bridge of Spies
Hollywood Film Composer Award
Alexandre Desplat for The Danish Girl and Suffragette
Hollywood Editor Award
David Rosenbloom for Black Mass
Hollywood Visual Effects Award
Tim Alexander for Jurassic World
Hollywood Sound Award
Gary Rydstrom for Bridge of Spies
Hollywood Costume Design Award
Sandy Powell for Cinderella
Hollywood Make-Up & Hair Styling Award
Lesley Vanderwalt for Mad Max: Fury Road
Hollywood Production Design Award
Cory Gibson for Mad Max: Fury Road