New plays by some of Ireland's best up and coming playwrights along with a revival of some well known classics, form the backbone of the Abbey Theatre's programme for next year.
Waking the Nation, as the season is called, features three new world premieres alongside new versions of some of Ireland's best known plays, a touring programme and other events as part of it's contribution to marking the centenary of the 1916 Rising.
The new plays include Cyrus Avenue by David Ireland, a black comedic co-production with the Royal Court Theatre starring Oscar nominee Stephen Rea, which looks at a Belfast loyalist who believes his five-year-old granddaughter is Gerry Adams.
Tina's Idea of Fun, written by Sean P. Summers and directed by Gerry Stembridge, is set against the backdrop of Queen Elizabeth's visit to Ireland and stars former Fair City actress Hilda Fay while Town is Dead sees the return of Philip McMahon and Raymond Scannell for their second musical with the Abbey after Alice in Funderland. Billed as a "living room musical" it tells the story of an older woman in Dublin who's rundown flat is being demolished.
Former @RTEFairCity star Hilda Fay recalls the first time she was on the @AbbeyTheatre stage #wakethenation https://t.co/WxCs9HBKDv

— RTÉ TEN (@RTE_TEN) October 28, 2015
The Abbey's Director, Fiach Mac Conghail, said that with Waking the Nation, the national theatre is "building up to a major programme around the Easter Rising - celebrating and commemorating it with a whole bunch of new work that's going to travel all over the world from Washington to Glasgow and also work all around the schools."
2016 will be his final year as Director of @AbbeyTheatre and @fmacconghail has saved the best until last! https://t.co/xT6EOF9SK5

— RTÉ TEN (@RTE_TEN) October 28, 2015
Unsurprisingly given the year that's in it there's also a revival of The Plough and the Stars by Sean O'Casey which is set during the 1916 Rising. The play has also been earmarked for an extensive touring programme throughout Ireland and the United States. Other revivals include The Wake by Tom Murphy, Observe the Sons of Ulster Marching Towards the Somme by Frank McGuinness and a new version of Othello to mark the 400th anniversary of Shakespeare's death.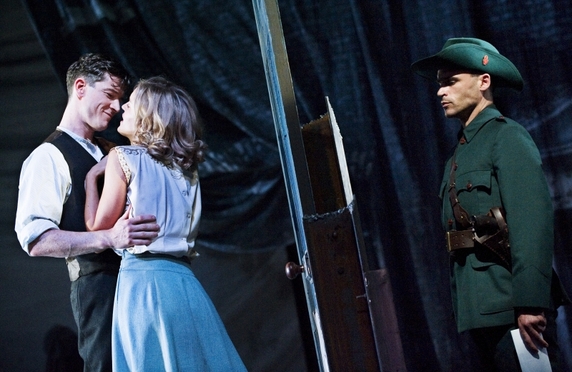 A scene from a previous Plough and the Stars production
Former @LOVEHATETVDRAMA's @ianloydanderson feels honoured to be bringing The Plough and the Stars stateside #abbey https://t.co/DlZNsRPqYj

— RTÉ TEN (@RTE_TEN) October 28, 2015
Arts Minister Heather Humphries said that the arts will be centre stage next year during the centenary celebrations. She said she was confident that the "fantastic programme" of both old and new will leave theatregoers "very excited" and added there was no better way to showcase the best of Irish culture at home and abroad than through the Abbey Theatre.
Minister for Arts Heather Humphreys thinks theatregoers will be impressed with @AbbeyTheatre's #wakethenation2016 https://t.co/MpiFwjGSPg

— RTÉ TEN (@RTE_TEN) October 28, 2015
Well known playwright, actor and politician Mannix Flynn said it is important for theatre to spark debate and opinion and revealed he will be presenting some of his own work at the Abbey next year.
"As an artist within The Abbey Theatre I've also written works which will be presented in 2016, which deal with events that took place in the last hundred years. They are not necessarily associated with 1916 but nonetheless what happened as a result [of the events] in our society", he said.
Theatre is all about success and failure and hit and misses says @mannixflynn @AbbeyTheatre #wakethenation2016 https://t.co/j1dNidJQty

— RTÉ TEN (@RTE_TEN) October 28, 2015