Viewers have hopefully recovered from last week's shocking episode involving Robert at the dinner table, as Downton Abbey resumes, with just the usual tensions, on a low simmer. That's at 9.00pm on TV3. Rachel's Coastal Cooking is in Co Limerick, searching out sauerkraut and braised turbot, while Simon Schama wraps up The Face of Britain series on BBC Two at 9.00pm.
Downton Abbey, 9.00pm TV3
Tonight in the high-ceilinged vacuum drama, Carson continues to moan about things at the cottage not being 'up to standard', to the increasing annoyance of his wife, even complaining about how she makes the bed, and suggesting that she get some pointers on cooking from Mrs Patmore. The Board of the Downton Cottage Hospital decides to approve its merger with the Royal Yorkshire Hospital and invites Cora to be their new president in place of the Dowager Countess to avoid such situations in the future. Mary and Tom decide to open the house to the public for a day to raise funds for the hospital. Edith's beau Bertie persuades Cora, Mary and Edith to act as guides, but they turn out to be woefully ignorant about the house and its contents. Violet, having learnt of her demotion, arrives in a frightful temper, imperiously sweeping aside the hoi polloi, and angrily berates both Cora and Robert for their treachery. Carson questions Thomas about his meetings with Andy, causing him more distress and reducing him to tears of self-pity.
The Face Of Britain: The Face In The Mirror, 9.00pm BBC Two
Simon Schama explores the complex motivations behind some of the most intriguing English self-portraits. From Tracy Emin's bed - a relic of this confessional age of ours - to Lucian Freud's searing examinations of his ageing body, the film explores how all self-portraits straddle self-indulgence and self-scrutiny. Schama explores the first glimmers of self-portraiture in a 13th century manuscript and how the incarceration of the artist Gerlach Flicke led to the creation of the first English self-portrait, which looks us straight in the eye.  Laura Knight's use of her own image to defy the male-dominated art establishment and William Orpen's painted search for his own identity during the First World War reflect the complex motivations that have driven artists to make themselves the subject of their work. Schama also visits the hundreds of figures that make up Antony Gormley's monumental sculpture Another Place.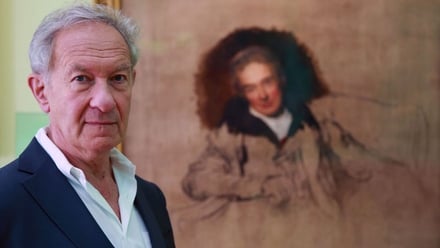 Simon Schama
Rachel's Coastal Cooking, 8.30pm RTÉ One
Tonight, Rachel heads to Rigney's Farm in Kilcornan, Co Limerick which has Tamworth pigs and Jacobs Sheep. The farm was Caroline Rigney's dream when she lived in suburbia and, with husband Joe, she has created a beautiful farm and B&B. Rachel collects up herbs and eggs from the farm to use in her pork schnitzel dish, which needs to be cooked in a hot pan . . . though not as hot as Rachel's, which catches fire!  Thankfully Rachel's trusty assistant Ivan is on hand to help.She then heads into Limerick City to meet fermenting expert Val O'Connor. Val shares some of her sauerkraut and kombucha, and explains the growing popularity of these age-old techniques. Rachel sets up an al fresco kitchen in Val's back yard to braise turbot in another fermented drink – beer.