Marlon James, the Jamaican author of A Brief History of Seven Killings, the Booker Prize winning novel about the attempted assassination of Bob Marley, has said that the reggae great was "also a human being, someone with baby mother trouble."
Speaking to GQ magazine, James said: "For our people he was a symbol of struggle, self-determination and the fight for freedom. But he was also a human being, someone with baby mother trouble.
"He was a contradiction in the world, fighting for freedom while wanting to be a successful rock and roll artist. That's the kind of contradiction that make people human, and why when icons fall from grace we have such trouble with it."
A Brief History of Seven Killings recalls the fateful day in 1976 when four gunmen tried to assassinate Marley, who had become involved in Jamaican politics. However, his putative killers had motives that were not just about pure politics - gangs and drugs were also involved in the conspiracy.
A Brief History of Seven Killings has attracted much commercial interest since the Booker win last Tuesday, October 13.
"We're over the moon about it," said Marlon James' agent Claire Roberts of Trident Media Group. "We'd sold it in a number of foreign markets before, but the Booker has really kicked off a tidal wave of interest around the world, and we're negotiating in at least a dozen foreign markets. It's a magnificent achievement for Marlon."
The novel is told in 15 narrative voices and features many dialect words and expressions. "I've never had problems with American readers," said James, who teaches at Macalester College in the USA.
"It doesn't surprise me that the first reviewers that have criticized the language were British reviews. Which has struck many people as strange because between Jamaica and Britain, there's still a post-colonial thing. It's still pretty pronounced, just not with me."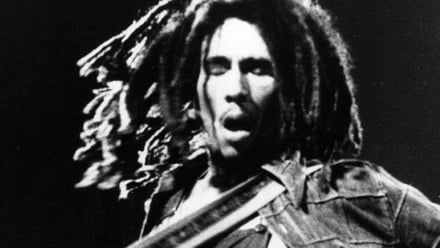 Bob Marley in performance in the 1970s