Three freelance graffiti artists who were hired to add authenticity to refugee camp scenes in an episode of Homeland have said they used their artwork to accuse the American TV drama of racism.
In the second episode of the fifth season - shown last Tuesday on RTÉ2  - lead character Carrie Mathison, played by Claire Danes, is seen walking past a wall with Arabic script reading: "Homeland is racist".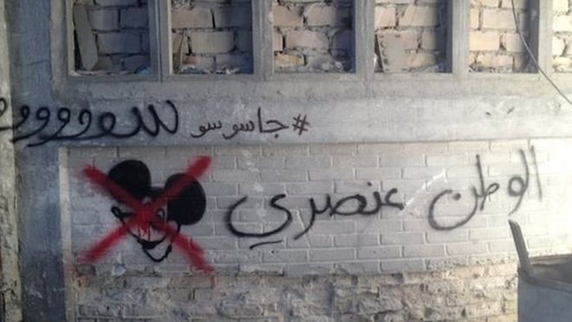 "Homeland is racist" slogan Pic: Heba Amin
The Arabian street artists said in an online statement that other slogans painted on the walls of the fictional Syrian refugee camp included "Homeland is a joke, and it didn't make us laugh" and "#blacklivesmatter"
The artists state that they had been contacted in June by a fellow street artist who had been approached by a production company looking for people to add authenticity to the show's set.
The trio decided to use the opportunity to air their criticisms of the show, adding graffiti stating: "Homeland is NOT a series", "The situation is not to be trusted" and "This show does not represent the views of the artists."
Showtime, the US network that produces Homeland, has yet to respond to the artists' claims.