Last night's Six Chair Challenge got quite a bit heated after one of the contestants, a wannabe rapper, channelled his inner Kanye West and was promptly booted off the show.
Mason Noise was axed from the competition after being branded "a complete a*** h**e" by Simon Cowell.
The row with Cowell began over a strop over the length of his audition slot.
Noise performed a mix of songs by artists The Weeknd, Blackstreet and Justin Timberlake, with a little help from a singing partner who danced with him on stage. The crowd loved the performance and it looked like he was destined for a chair but it all went wrong when the music stopped.
Noise told the crowd: "I've got something to say. You know what? I invite you all to film this, or put up your phones. They ain't going to throw four or five thousand people out."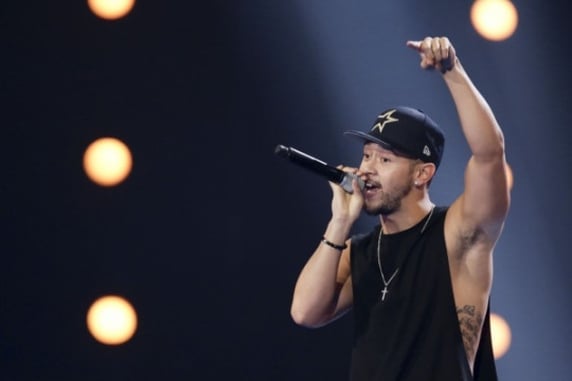 Mason Noise making all the wrong noises
The X Factor supremo immediately objected: "Mason, just one second. What gives you the right to say that?"
The singer replied: "The first audition I watched on Saturday, people had 10-minute slots, and I went to 47 seconds."
"Mason, you know what? You are five seconds away from getting thrown off this stage. And I mean it," said Cowell. "You are being a complete a******e. Don't tell me how long you should have on this show. If you've got a problem, then just go."
Boos erupted around Wembley's SSE Arena as Noise argued with Cowell. He ordered the R&B singer to apologise, but the youngster refused. "Well then, go," Cowell ordered. Noise dropped the mic and left the stage, still protesting.
Mason Noise makes some noise by dropping his mic, while the audience make some noise by booing. #SixChairChallenge https://t.co/8O9agG9QrL

— The X Factor (@TheXFactor) October 11, 2015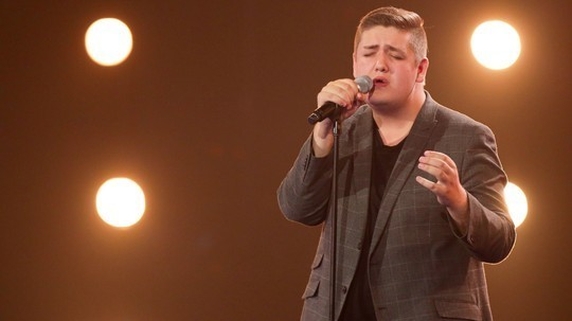 Tom Bleasby made it through by the skin of his teeth
The six boys that eventually made it through were 19 year old Che Chesterton, 21 year old Mechanic Josh Daniel, Flamboyant 24-year-old Australian Seann Miley Moore, Tom Bleasby, a 19-year-old from Leeds, who slipped into the next round by the skin of his teeth after being seated, un-seated and then seated again and Ben Clark, a 25-year-old receptionist from Coventry, and 23-year-old Simon Lynch, from the Isle of Man.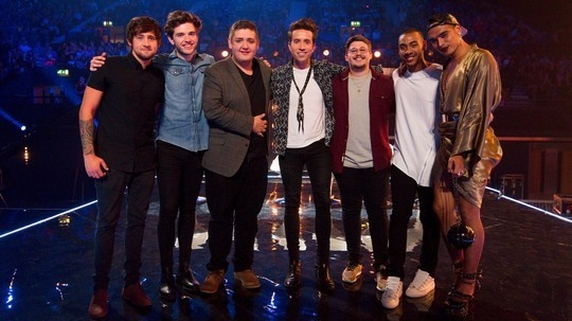 Nick Grimshaw and the final six boys Pic: ITV