Actor and playwright Amy Conroy's new play Luck Just Kissed You Hello moves to Blanchardstown and Bray this week after selling out its initial run in Dublin Project Arts Centre last week as part of the Dublin Theatre Festival.
In the new work, Conroy plays Mark, who returns home for the funeral of his patriarch father. However, Mark used to be Laura and his change in sexual orientation causes conflict with his twin brother Gary and their long-time family friend, Sullivan.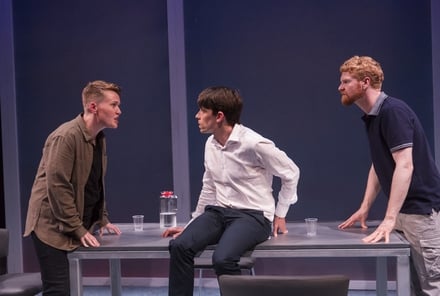 Amy Conroy, Will O'Connell and Mark Fitzgerald in a scene from Luck Just Kissed You Hello
Speaking to TEN, Conroy, who is artistic director and founder of HotForTheatre and who has previously appeared in productions of The Country Woman and The Agamemnon, said: "I'm always compelled by stories you don't hear very often or people you don't hear about very often or people who we might decide about - `oh, they're like that'.
"In doing so, we are saying they're not like me and we do that all the time when it comes to people who are older than us or anybody perceivably different. I suppose that's become a theme in my work."
Watch Alan Corr's interview with Amy by clicking on the video link.
Luck Just Kissed You Hello is at Draíocht, Blanchardstown (October 7 and 8) and Mermaid Arts Centre in Bray (October 9 and 10).