John and Edward Grimes, aka Jedward, are planning another crack at the Eurovision, this time with the United Kingdom.
The pop twins have represented Ireland twice at the song contest - in Dusseldorf in 2011 where they came 8th and and Baku in 2012 where they placed 19th.
However, they are so desperate to win the contest that they are planning on switching their allegiances and entering the singing competition on behalf of the UK.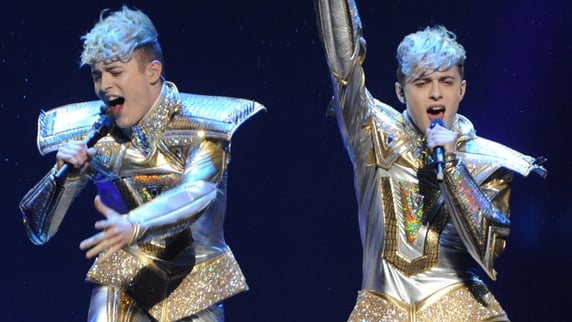 Speaking to the Irish Sun newspaper John said: "We know we are already popular in Eurovision and will have support across Britain to represent the UK because of the fan base we got in X Factor."
Edward added: "We're definitely up for it. We see this as the most fantastic opportunity. But this time, we are in it to win it."
Eh Jedward, were you not in it to win it when you represented Ireland?
BBC bosses are launching an X Factor-style talent hunt for next year's Eurovision Song Contest in order to turn around the UK's fortunes after a series of disasters.
Up and coming acts will be invited to battle it out with professionals as the format is completely revamped with Atomic Kitten and Blue's former record boss Hugh Goldsmith leading the hunt.