The new documentary Talking to My Father follows Simon Walker, a quarter of a century after his father Robin's death, as he explores his architectural legacy in Dublin.
Modern architecture in Ireland reached a high point in the early '60s and one of its most celebrated figures was Robin Walker. Robin Walker, who was born in Waterford in 1924, studied architecture at University College Dublin from 1942 to 1947, and later under the legendary Le Corbusier. He also worked alongside Mies van der Rohe in Chicago. Upon his return to Ireland he became a key agent in the shaping of the emerging modern nation.
Looking again to Dublin's streets which he has so faithfully recorded in earlier works (James Gandon, A Life; Alive, Alive Oh!), the film-maker Sé Merry Doyle follows Simon Walker as he explores the buildings that resulted from his father's bold vision and imagination. Amongst his many commissions, Robin Walker worked with the celebrated architect Michael Scott on the Busárus building and in the mid-sixties on the National Bank - later the Bank of Ireland building - on Suffolk Street. He also worked on the design of new buildings at the university of Maynooth and the restaurant building at UCD. Robin Walker died in 1991.
Talking to My Father is released at the Irish Film Institute from Friday October 16. Director Sé Merry Doyle will take part in a Q&A after the screening at 6.30pm on that date.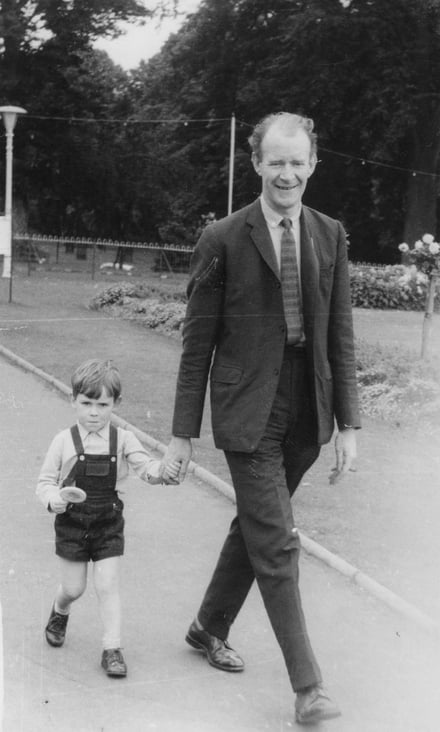 The young Simon Walker with his father, the architect Robin Walker.