Eastenders showrunner Dominic Treadwell-Collins has revealed that Danny Dyer's character Mick Carter will be involved in a large water stunt at New Year's.
He said that a "big resolution" will happen around the rape storyline involving Mick's wife Linda Carter.
Speaking to Radio Times TV Festival, the showrunner said: "There's a big resolution coming up in the New Year. Danny's been fitted for a wetsuit, he's going into some water, that's all I can say."
Dyer, who was also speaking at the festival, added that the rape storyline has taken him to "really dark places", saying: "I couldn't snap out of it at all. You go home and you've got the hump and find yourself quite tearful.
"You can't talk to anyone about it, as understanding as my missus is she's like, 'Slow down, you're in a soap, leave it out, did you have to serve a pint today?'
"There was scene after scene and I had to go to these dark places. The thing with a soap is if you can't act you get exposed. There's nowhere to hide."
Treadwell-Collins also added that soap fans should "never to say never" to a return for Grant Mitchell (Ross Kemp), saying: "I think the fact that you've got Phil, Kathy, Sharon – there's a person missing, isn't there?

"Actually, to get all four on screen at the same time is a dream. As an EastEnders fan, you want to watch that. I want to watch that."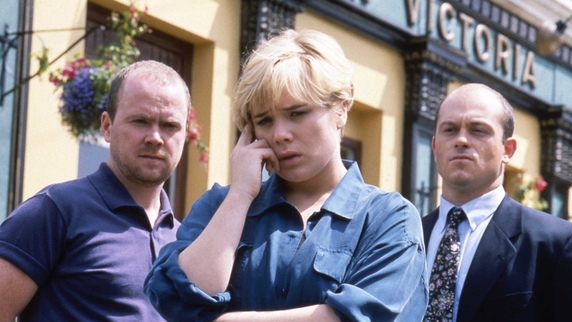 Phil, Sharon and Grant Mitchell