Hollywood star Matt Damon may have delighted movie audiences with his return to the Bourne franchise but the actor has told Graham Norton that playing the lead character, Jason Bourne, is beginning to take its toll as he's no longer as young as he was.
Damon is one of the guests on the famous red sofa tonight as the show returns for a new season. He is currently shooting the fifth film in the gritty spy franchise, his first outing since 2007's The Bourne Ultimatum.
However he admitted to Graham that age has taken its toll.
"Now I am 45 it is much, much harder. I was 30 when I made the first film and this is a whole different thing. The fight scenes are more like dancing and I am the weakest dance partner", he said.
Damon is on the show to promote his new movie, The Martian. The big-budget film, which is directed by Ridley Scott, sees him play an astronaut who is left stranded on the red planet.
"It was a challenge [to act alone] although I did have to discuss everything with Ridley [Scott]," he said. "That was the reason to do it and I've never done anything like it before."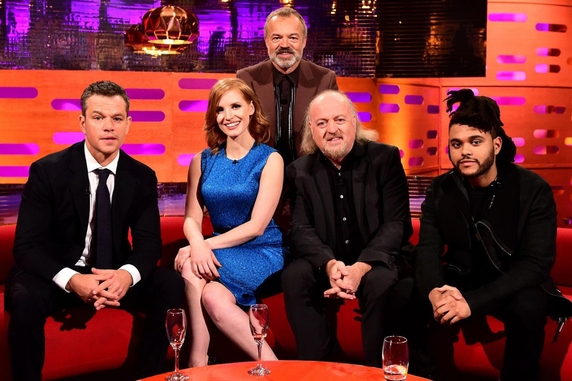 Jessica Chastain, who also stars in The Martian joins Matt on the sofa tonight and reveals that she was left shocked after she stumbled upon an episode of Channel 4's Embarrassing Bodies.
"I watched one episode that was about penises and there were close-ups of ones with problems," she explained. I was absolutely shocked. I couldn't believe these people actually decided to go on the show and there were things I couldn't even have imagined."
The Graham Norton show is on BBC One at 10.35pm.