Ray D'Arcy is all set for his return to primetime television tomorrow night and despite the understandable nerves he's been happily showing off his swanky new surroundings.
D'Arcy said he's a big fan of his new home on Saturday nights, "I'm really happy with the set. I have to say it was a bit weird seeing my name in lights – no pressure then! It's really exciting."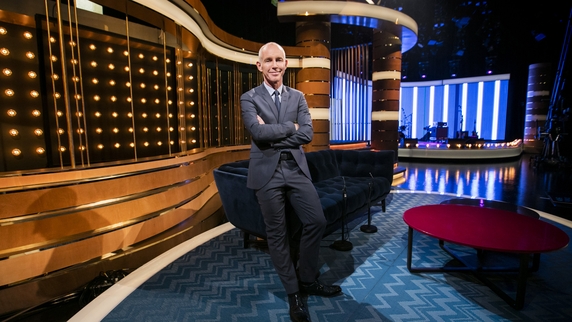 Speaking about his first episode D'Arcy admitted that he is nervous about going live on RTÉ One, "There's a strange mix of anticipation and nerves going on in my head. It's a bit like the lead up to a cup final – you just want to get out there and do it."
The new set is the brainchild of award-winning designer Sinead O'Hanlon. She admitted there was plenty of pressure coming up with a design for such a high profile show.
"One of the key challenges for any chat show set is to ensure that both the presenter and their guests feel comfortable and at ease. Ray wanted the set to feel warm and to have an intimate feel, bearing that in mind we have tried to make sure he is as close to his guests and the audience as possible.
"We have used a blend of colours, materials and lighting to create a warm, engaging and contemporary design for the set. We also have a larger than usual performance area with a simple but effective LED background which allows a variety of looks for the many bands and performers that we hope to welcome to the show," said Sinead.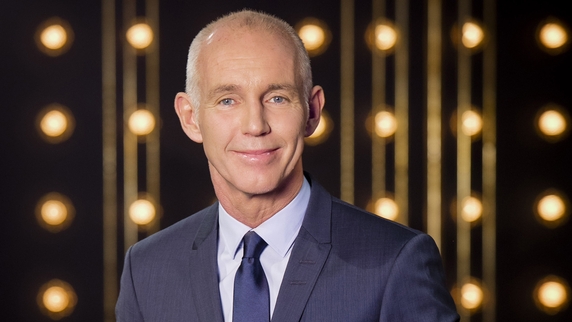 The show is a big return to primetime telly for the presenter who sensationally left Today FM last year to join the national broadcaster.
Earlier this week a short teaser video was released, showing Ray having a nostalgic look back at his previous outings on TV including his time as ringmaster to Zig and Zag on The Den and his stints on The Rose of Tralee and The School Around the Corner. Click on the link for a look.
RTÉ say the new Saturday night show will include a mix of chat, comedy and music alongside guests from all walks of Irish life. Athough the guestlist for the first show is being kept under wraps, it's been widely rumoured that one of Ireland's top comedians will make an appearance on the show tomorrow!
The Ray D'Arcy show kicks off on Saturday evening at 9:45pm on RTÉ One.
Get a bird's eye view of the set for the Ray D'Arcy Show which kicks off on Saturday evening on RTÉ One #RayDarcy https://t.co/XcHCPbHU8V

— RTÉ TEN (@RTE_TEN) September 25, 2015